50/50 show opens in Wicker Park Friday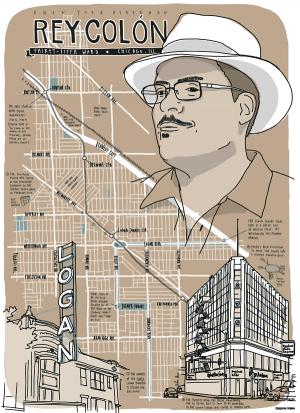 The Chicago Alderman Project debuts its 50 Aldermen/50 Artists portrait exhibit Fri. Mar. 19 in Johalla Projects, 1561 N. Milwaukee with an opening reception from 7 p.m. to 11 p.m.  Artists and Alderman are expected to attend. 
"The show is intended to help the public learn more about Chicago's city council and local government, and to get artists and elected officials to exchange ideas while meeting up for the purpose of art creation," according to Lauri Apple who co-created the show with Jeremy Scheuch. 
Alderman Rey Colon, 35th Ward, and 35th Ward artist Craighton Berman are, in fact, fulfilling Apple's and Scheuch's intent.  "Though we have not met as yet, initially we had a long phone conversation.  I told him about a lot of my community initiatives.  We found that we had similar interests.  Since then we have been on Linked-in, sending messages back and forth.  We have discovered that we have things in common.," explains Alderman Colon.  "I am interested in a healthy, green and walkable community. I'm interested in a balanced community which includes an arts district," he added. "When I was growing up in the area, I got into ceramics and canvas painting.  Mural painting to cover graffiti was one of my favorite activities."
"I've lived in Logan Square for about four years and been fairly active in the community," Berman explains. " I've seen the Alderman before and known a little about him but I had no idea about his involvement with the Boys and Girls Clubs when he was growing up and how that eventually led to his being alderman.  It gave me a new perspective.  There is still part of a mural that he painted close to where I live.  That's cool." 
Apple and Scheuch, both artists, and Johalla Projects curators Anna Cerniglia and Caitlin Arnold reached out to an extensive network of artists to turn their ideas into a show.  Each entrant paid a $20 fee.  The only requirements were that the pieces be 16" by 22" and that the artist interview or attempt to interview their subject. Artists chose the alderman they wanted to portray with a first-come, first-serve policy in place.   
Artists used a range of media and styles.  Some are new to Chicago, others longtime residents. While some of the artists in the show have pieces hanging in the nation's top museums, others are emerging artists. Gallery hours are on Saturdays from noon until 5 p.m. or by appointment during the week. Closing Reception will be Apr. 2, from 7 p.m. to 11 p.m.
Related:
Crime Stats By District
Columnists