Art or Illegal Act: Gaia, street artist, crosses Chicago's cultural boundaries
Gaia will be revealing a whole series of public art projects he has produced over the past month in Chicago. Gaia is a street artist currently studying at Maryland Institute of Art in Baltimore and has worked with other esteemed street artists such as Swoon, from Detroit. His exhibition opens on Sat., Mar. 25 at Maxwell Colette Gallery, 833 Chicago Ave., Suite 200, in collaboration with Pawn Works Gallery which is located at 1050 N. Damen Ave.
Over this past month Gaia has been installing murals all over Chicago: Cabrini Green; the cross section of Augusta and California; Grand and Ashland; Milwaukee and Leavitt; North and Cicero to name but a few. He has specifically chosen locations to install these public works of art in desolate zones, the so-called "no-go" areas that are left undeveloped. It has generated a lot of excitement from people hunting them down and posting them on Twitter as soon as they find them, to graffiti artists sourcing them out to defecate them, to people actually taking the wall down to sell it on Ebay. This has already happened to one of the murals at Ontario and Clark.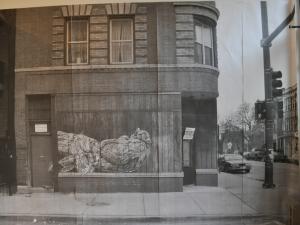 Gaia creates these murals by producing small scale wood cut prints and then enlarging them into large scale posters and attaching them on site with wallpaper paste. The pieces are constructed out of dynamic fluid line using symbols of animals to create poetic statements about the sense of place.
For example, on the wall at Cabrini Green he carved a rabbit in conjunction with a lion. Is this a metaphor of the people overpowered by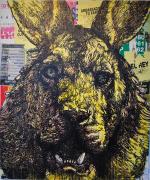 capitalism? In discussion with the artist, he explains that the lion resembles the architect of modernism, drawing parallels with Corbusier, and the rabbit symbolizes the people. On an abandoned building he places a pigeon in the hand of a human being exploring the relationship between nature and people. He has appropriated the photographer Wojack's carrier pigeons and is currently working on a series of pieces using the pigeon metaphor in New York for Martha Cooper's Remix.
At the preview exhibition at Pawn Works on Fri., Mar.16, Gaia displayed his paintings on top of large photos that depicted the murals in their locations. It is the process and placing of these works that is exciting. In comparison to Swoon he definitely needs to develop his drawing techniques but there is spontaneity in these pieces that evoke the tension in the illegal act.
Unlike Banksy who employs a stencil to spray his images quickly onto the wall, Gaia uses the fly poster technique, quickly pasting the images onto these abandoned spaces. In production his identity is concealed wearing a mask and hard hat creating all kinds of rumors regarding his gender, is he male or female? The sense of anonymity was a strategy employed by Banksy in the early days prior to becoming so commercialized.
There is an irony in this street art direct action where it has a long history tied to political protest and graffiti culture yet the works that are being produced by these artists today are becoming part of the art establishment and highly collectible. The art works are created illegally but then people are stealing them to sell them on Ebay.
There was a Scottish artist who had work in a commercial gallery in Glasgow years ago. When my friend walked in the artist dared her to steal one of the sculptures. The whole notion of what is public property and private property is a serious debate to be had. Gordon Matta-Clark highlighted this plight by buying segments of pavement and curb in New York.
A debate to be had is when do we as a society accept and embrace art everywhere and question the levels of bureaucracy one has to go through to create cultural landmarks that are celebrated by local communities? Cities employ established artists like Picasso, Debuffet and Anish Kapoor to produce landmarks in our city, yet surely every neighborhood deserves art on every wall. That is the wonder of Gaia.
He is going into these desolate zones and putting it up there. Who doesn't want a beautiful drawing or painting on their wall to come home to?
Speaking at the Chicago School of the Art Institute about street art, Lisa Frieman, the curator at the Indianapolis Museum of Art, spoke about commissioning Felix Torres-Gonzalez to do a billboard series around Indianapolis. It is a black and white photograph of a hand interjecting into the right hand side of the composition. The gesture implies "please give," please give the space for art, then we can transform our cities.
In the 1st ward "Alderman Proco Moreno has sought to keep graffiti taggers away from small businesses by commissioning them to paint designated walls." (by Meribah Knight, Chicago News Cooperative, March 19, 2011)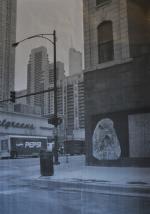 Art has a long history of transforming cities into places of beauty and grandeur. One just has to travel around ancient cultural sites in South and Central America, Europe and modern day developing cities like Seoul in South Korea to admire the transformations created by artists around the world. We just have to observe the transformation of the loop over the last ten years to celebrate what creative visions can do in terms of creating cultural landmarks. Chicago has just started. It now needs to work on developing its neighborhoods and the transit system to really make it a world class city able to win the Olympic bid next time. Let's hire artists to create murals in our derelict L-stations. Property owners, why not hire artists to decorate your exterior wall? Commission an artist to create a sculpture on the pavement, lets make the investment now.
We can develop our cities and neighborhoods with art, lets not consider it illegal, let's embrace it. I hope you enjoy the locations in Wicker Park and let's do our utmost to preserve these future iconic images. Gaia maybe anti-establishment today but will no doubt be part of the art establishment of tomorrow.
Opening Reception, Mar. 25, 6 - 9 p.m., Maxwell Colette Gallery, 833 Chicago Ave., Suite 200.
For more info: SWOON: Deitch, Gothamist, Flavorwire; Gordon Matta-Clark; Banksy: Chicagoist, Animal New York.
Related:
Crime Stats By District
Columnists