Britain's My Dog Sighs brings hidden treasures, special faces, eyes, people and hugs to Chicago's near northwest side
Sharpen your visual observations and release your bloodhound like sniffer and join the search for one of the more than 50 My Dog Sighs (MDS) stickered "lost" cans* in the West Loop, WestTown, Ukrainian Village, Wicker Park, Bucktown, Logan Square then take it to Vertical Gallery, 1016 N. Western Ave., in Ukrainian Village, on Sat., Sept. 6, between 6 and 10 p.m., during the opening reception for Lost and Found. 
Finders will have a chance to win an original hand-painted piece of art by Britain's street artist, MDS, who started the concept of "Free Art Fridays" a decade ago, which is now an experience celebrated around the world. 
This week, in addition to cans, MDS has been creating exterior work which will no doubt intrigue, inspire and amaze those who find them in Wicker Park, Logan Square's Greater Goethe area and East Village. And, he has been assembling 60 pieces of work which make up Lost and Found, his first solo U. S. show, on exhibit through Sept. 27 in Vertical Gallery. 
"I've been a street artist for about 10 years," explains MDS, "I came into it a bit late in the game. I loved what was happening in the street-art scene and I loved that there was no curating of the street work. No one was saying, 'No you can't do that.' I could decide what I wanted to put out there for people to see. It was so liberating. 
"But, I didn't want to damage the property in places where I lived. So I started a project called 'Free Art Friday.' I created works but instead of painting on the walls I painted on trash left around the city. Now I'm invited [to paint on walls] to share my work around the world," said MDS, smiling. 
This week aside from creating the 50 plus cans that are out in the neighborhoods waiting to be found, MDS painted four walls. While the cans are adorned with sad faces, the wall images have different visual appeals. 
He began by giving Chicago a "Big Hug" in the 2000 block of W. Concord Place, just west of Damen Ave. "This is part of my Hug Project," says MDS. "I plan to visit as many cities as I can and give them a hug." 
Walking west on Concord from Damen, his Everyman character is not seen at first. But then, there he is. Standing with arms wide open. He appears to be waiting to embrace all who come his way. It brings a smile to your face. But then that is the effect the  4-year-old achieved when he gave a sketch of a person with big flat hands to his kindergarten teacher. MDS used his memory of that gift he received, when he created Everyman. 
A collaboration with two Chicago artists made the second piece possible this week across the street from the Congress Theatre in the 2100 block of N. Milwaukee Ave.  On the side of a grocery store, a pair of MDS eyes are flanked by a J.C. Rivera red-gloved fighter on the left and a Sentrock blue-gloved fighter on the right. 
Love comes into play on the back wall (image above) of Five Star Bar, 1424 W. Chicago Ave. "They [two figures] can become one, they can share. So they share an eye and their faces interlock The heart is possibly the first gold leaf on street art," comments MDS. [Can bling ever be bad?] 
And on the last wall on the side of the former Luxor Baths building and now the home to Trencherman's, 2039 W. North Ave., there are the mysterious looking, seductive eyes (seen above). The eyes reflecting…[What do you think they are reflecting?]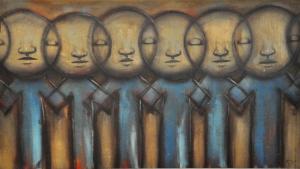 Finishing his publicly hidden work gives MDS a certain amount of melancholy. "I finish them and walk away. The pieces have to fend for themselves. So if I give them something that will tug on the viewers heart strings. Then, they might feel obliged to pick it up and love it and take it away with them  visually or physically, in the case of Free Art Friday." 
And then there is the 60-piece exhibition in Vertical Gallery. Faces and eyes dominate. They vary in size and price from the small to big and most are intended to hang on the wall, except for the "trashed can." 
Several of his hand-painted cans are encased in glass fronted frames. His "eyes" are observing while being observed around the gallery walls.
He is premiering new re-purposed pieces…time pieces. 
Faces are painted on old watch faces and mounted in drawers from an old apothecary cabinet, that Patrick Hull, Vertical Gallery's owner, found. [Charming!] 
While MDS says that he is inspired by the beauty of urban decay, I personally see only fun and beauty as they totally distract you from the decay. [What about you?] 
My recommendation is to find MDS' work and treasure it…in your mind or go to the gallery and go home with something for your wall...I did.
Patrick Hull has hit another home run with this show. 
*There is also a large white sticker on MDS's "lost cans" which say, "My Dog Sights 'Lost and found.'"  and information about the Sept. 6 event.
**Photo courtesy of Vertical Gallery
Related:
Crime Stats By District
Columnists