Bursting in erotic allure
In Montgomery Perry Smith's new show entitled
Daisy Chain
at Pawn Works he fuses beauty and horror through a collision of found and fabricated materials. The sculptural forms hang on the wall protruding like little worlds the viewer is teased to peer in. He disguises found chair pieces using them as a base to build these 'other-worldly' scapes. He meticulously hand crafts his pieces using lace, felt, paper, and plastic flowers.
The circular form is a repeated structure in Monte's worlds. In 'Oh Mother' 2009 the central orifice is built out of blown glass petals beyond which maybe a snake rolling into a deep well. The friction created by using soft and hard, wet and dry materials creates an erotic allure in the work. The play between beauty and horror is exquisitely executed by Monte's attention to detail creating a frisson that radiates from the work.
In 'Oh Honey Baby' 2008 multiple orifices are created by thick black felt meticulously fringed by the artist surrounding a central orifice created out of white lace. In the center protrudes a hexagonal glass form, which protects a phallic stem of bees wax. Smith defines them as reliquaries and in this particular piece he was haunted by the depletion of bees. Yet he entices the viewer into the concept by the use of humour and sexual connotation: 'Oh Honey Baby...Do you realise you are staring right through my cock ring?' The cock ring is placed right in the center of the viewer's eyes.
My favorite piece in the show is entitled 'Tease' 2010. It's a wig made from human hair hanging at crouch level. As you look down you peer into an orifice formed out of glass surrounded by an edging of lace. Its simplicity in construction vibrates a charge of horror and pleasure.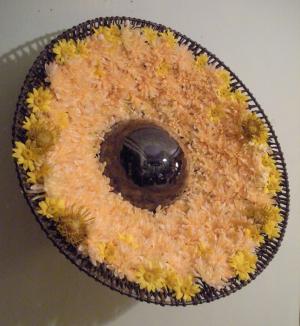 Do the orifices in Monte's work symbolise the anus or refer to the sensations of an orgasmic state experienced by gay men and women? In 'Tease' it very much the former, an anus but in the majority of the work I would suggest Smith symbolises a metaphorical manifestation of the later- the orgasmic experience. The recurrent circular formation in Monte's work is a celebration of sexuality which is referenced in the title of the exhibition 'Daisy Chain' and played with in the titles of the individual pieces, for example Oh Honey Baby!'. It's not sexuality of pure pleasure it is the beauty and the horror combined, it's the flowers and the chains. Monte has drawn references to being a young gay male growing up in a world where the black shadow of death is synonymous with sexuality, stereotypically associated with gay male culture but is a reality we all have to deal with. The materiality is poetic and the allusion to sexuality is subtle but cajoling in a playful manner employing the irony reminiscent in Restoration Comedies.
Other smaller pieces in the show are not as successful in terms of their allure but do create a visual rhythm for the eye around the exhibit. For instance 'Pearl Necklace' and 'Daisy Chain' although cut with great precision out of leather they don't utilize the friction between materials that Monte is so successful at in 'Oh Mother' and 'Oh Honey Baby'.
The French philosopher, Kristeva explores the friction between fear, repulsion, beauty and desire in her conception of 'The Abject'. 'The Abject being a state which one passes through horror to reach ecstasy. Monte creates this frisson aesthetically by fusing wet and dry, soft and hard materials composed into these worlds where one is dared to look closer. Monte's work stands strong in a tradition of textile (fiber) art practice and would not look out of place in private and museum collections.
Pawn Works is located at 1050 N. Damen Ave. Open until Sun., July 25 by appointment only, call Nick at 312.841.3986.
Related:
Crime Stats By District
Columnists