Cassandra Stadnicki: Perception versus reality tested by Humboldt Park photographer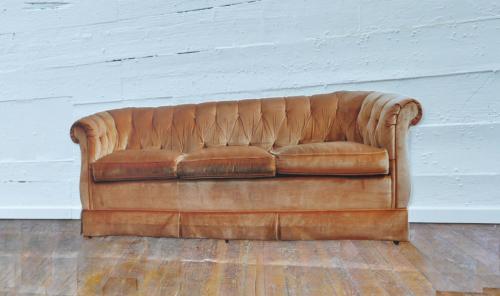 You may think, "This is a comfy looking sofa…perhaps I'll sit down?" You are having a Cassandra Stadnicki experience.
While you may perceive this sofa as a three-dimensional object, it isn't. Stadnicki is a Humboldt Park photographer who likes pitting perception against reality. In this case, the comfy sofa is an image glued to the wall outside of the Violet Hour, 1520 N. Damen Ave.
While the "floor" is a series of photograph images of a floor, the "sofa" is on one large piece of plastic. 
"We have memories attached to items and whether we realize it our not, we have relationships with them. I like to play with the perception of them, taking them out of context," explains Stadnicki. In this case she is taking an interior item and taking it out of context, putting it on an exterior wall of a building. 
This idea is one that she has been honing for a long time. While she has done a lot of large format pieces, this is her first public art piece. 
Though she explains that she is in a transition period with her work and taking a new direction, in fact the underlying theme seems to be the same. "I am doing film and television and how that effects us, which ties into interior space." 
The white background is like all the walls in the apartments she has lived in, as well as a nod to gallery settings. Still looking for an installation name, we suggested "An homage to the white wall." 
You have about a month to experience this installation. What do you think it should be named?
Related:
Crime Stats By District
Columnists