Defibrillator's second event brings more quality performance art to Milwaukee Ave.
WEST mid West
on Feb. 25 was the second event at Defibrillator Performance Art Gallery, 1136 N. Milwaukee Ave. since Joseph Ravens debuted his stunning space for performances in January.  It included Paige Starling Sorvillo from the West and Rachel Bunting with five of her "humans"  and Ginger Krebs from the Midwest, namely Chicago.
A co-production of Blushing Plush Productions and Defibrillator, the evening began with a one-woman improvisation, "in apt" / this wasn't a natural disaster.  It was a collaboration of Paige Starling Sorvillo and composer Evelyn Ficarra, who splits her time between the United States and the United Kingdom and was not present for the performance.
Soravillo is a choreographer and improvisation artist based in San Francisco and Berlin, Germany.  Her work employs a fusion of Japanese butoh dance, Ruth Zaporah's Action Theater and western contemporary dance.  She has worked with butoh artists Minako Seki, Yuko Kaseki and Shinichi Lova-Koga and studied with artists including Su-en, Yumiko Yoshioka and many others. Blindsight, her company, has performed in New York, Boston, Germany and the Czech Republic.
Before beginning her piece, Soravillo placed small alarm clocks along one wall. She began her performance dressed in a white lightly padded ski type jacket over a green top, gray pants, black medium-heeled shoes and gray slacks.  Saying,
"You can watch me undress...," she took off her slacks revealing black underpants. She put on an orange hat and large white framed sunglasses then walked to the performance area and crouched/laid on the floor (see photo at left).  The audio included a mix of seemingly unconnected sounds as she did some small gestured actions.
The fact that Sorvillo had not heard the audio prior to the performance may have accounted for the lack of coherence in visual to music and relevance of actions to a story. The result, however, was that it was the weakest of the three performances.
Examples of the discord were: floor movements during the sound of a dog lapping up water; sitting on a bench with the audience and removing a shoe then walking away with one shoe on which is eventually kicked off;  rolling on the floor to a wall doing a series of movements that did not seem to fit with the rest of the performance; and, at the end of the performance, picking up the clocks which seemed to have had no relevance to the rest of the piece.
The second performance, Paper Shoes, was by Rachel Bunting and four of her Humans, her dance company, which is housed in Hamlin Park where Bunting has been an artist-In-residence since 2004. Bunting has received three consecutive Illinois Arts Council grants and an artist initiative award. This year she was chosen as a Chicago Dancemakers Forum lab artist. She teaches at Columbia College where she has been an adjunct faculty member since 2004.
Magical and enchanting, five dancers pranced and cavorted, using the entire space, in an interesting and energetic performance. Papier mache horsehead-pieces by Mark Bazant and the unique costuming by Collin Bunting were terrific. Amazingly they visually removed the fact that there was one male and four female performers.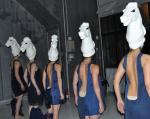 Ultimately, the piece they performed is to be part of an evening-length work exploring themes of passage and its inevitable end.  This use of horses was aimed at physicalizing nostalgia. The horses signify escape, like in a fairy tale.  The performers were Rachel Bunting, Precious Jennings, Karla Beltchenko, Matthew McMunn and Kelly Kane.
Our Little Secret by Ginger Krebs rounded out the evening at Defibrillator. A Chicago-based artist, Krebs has presented work locally at Links Hall, Epiphany Episcopal Church, the Cultural Center, the Hyde Park Art Center and the Dance Center of Columbia College. In New York, she has performed at Movement Research and the Wild Project. She is an adjunct assistant professor at the School of the Art Institute of Chicago, where she teaches performance and time arts.
About her work, Krebs explains, " I am fascinated by the human longing for transcendence, and the beauty, humor, and heartache that result from our diverse and tireless efforts to achieve it." In her butoh presentation of Our Little Secret Krebs explores gendered expectations about passivity and taking action.
With the distinctive voice of Edith Piaf playing in the background, Krebs glides into the performance area on a low platform giving the audience a diaphanous, ethereal feeling.
Batting her long jewel-lined eyelashes, Krebs' passive, coquettish poses were in perfect harmony with Piaf. Gradually she transitions to standing and violently slashing, lashing with her arms nearly causing her to lose her balance. Her body portrays violent, harsh movements as the audio also changes to loud sounds. Captivated, the audience then watched as the convulsions subsided, the lights dimmed and she gradually walked backwards off stage.
Defibrillator is in the midst of a fund raising campaign to raise $2500 by Mar. 28.  To make a donation to support the performance art community grow please go to the Defibrillator website.
Defibrillator's next event will be a Food Performance curated by Ania Greiner and Jessica Hannah where all the artists will be serving food.
for more information: Butoh contemporary dance, what is butoh, Edith Piaf
Related:
Crime Stats By District
Columnists