Jackson Junge Gallery's celebration of Chicago neighborhoods opens Friday
In The 'Hood, a celebration of Chicago's diversity and richness through its neighborhoods, opens Friday, November 10, and will continue through January 14 in Jackson Junge Gallery (j2), 1389 N. Milwaukee Ave., in Wicker Park.
The show, a banquet of 70 images in multiple disciplines, is the largest exhibition in j2's eight-year history. The pieces, depicting the many faces of Chicago's neighborhoods, are the creations of 30 artists. 
"While we did not get pieces from every neighborhood, we show the diversification of the south, north, downtown and west sides and incorporate the unofficial east side (the Lake shore) to complete a 360-degree view of the City," explains Chris Jackson, Co-Gallery Director. "As you move through the exhibit, the core of the city is surrounded by the neighborhoods, literally showing the inter-connectivity." 
In the works for a year, the concept began with Jackson and Co-Gallery Director and artist Laura Junge. Kaitlyn Miller, Assistant Gallery Director, and Jackson bantered back and forth with the theme of Chicago diversity until spring when a dialogue began with certain groups about being part of the exhibit.
Women In Focus Chicago (WIF) and Pleinair Painters of Chicago (Pleinairs) along with others submitted photos of their work. From that pool of submissions, Jackson, Miller and Gallery Assistant Jordan High made their selections. 
For 12 months, WIF members focused on a different neighborhood each month. Work from nine photographers were chosen by curators Charles Osgood, former Chicago Tribune photographer, and Richard Cahan, former Sun-Times photo editor and author. Some of those photos are featured In the 'Hood. 
"Basically Pleinairs paint what a lot of photographers shoot. They paint, in three-hour time slots on the street, a lot of iconic images in popular areas of the city," said Jackson. "We were also looking for pieces in areas that tend to be neglected and that was a struggle. There are areas where there are no iconic sites so when artists do capture images there, no one recognizes where they are." 
There were surprises in the submissions for Jackson and Miller. 
"A lot of submissions said 'I am an artist who lives in (name a neighborhood) and this is what I do,' but the image was not tied to their neighborhood," explained Jackson. "That gave us an internal conflict because we wanted it to represent the flavor of the neighborhood in the Chicago sense. So we had to come to the difficult decision to exclude those pieces." 
"I wasn't expecting that either," said Miller. "We got an overwhelming response to our call, but at the same time, I expected more people to submit." 
"We are having a lot of stress about how the show is being hung cohesively so that it looks good," said Miller as they were laying the show out on the weekend. "Each piece needs to be well represented and there needs to be a flow from neighborhood to neighborhood, with spacing between the images." 
The reception for the show will be from 6 to 10 p.m. on Friday at which time, visitors may judge how well they did in their hanging tasks. 
While traffic into the Gallery from locals is expected, Jackson says he hopes that people from Bridgeport, McKinley Park, Jefferson Park and elsewhere come to see how their neighborhood is represented.
Arranged for by WIF, Rick Kogan, Chicagoan and longtime journalist, WGN radio host, interviewer and author, will share "Sidewalk" stories at the gallery on Sun., Nov. 12 between 2 and 3 p.m.
The following Sunday, Nov. 19, there will be an Historic Wicker Park Photo Walk starting in the gallery at 2 p.m.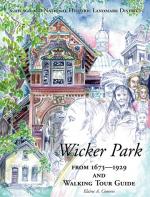 Home to two Chicago historic landmark districts, the Wicker Park neighborhood has welcomed a stream of immigrant populations as the area evolved from farm country to today's "hot" urban neighborhood. Led by local historian, Elaine Coorens, and two other Women in Focus photographers Anne Evans and Adeline Sides, they will provide photography tips along the two-hour route.
Related:
Crime Stats By District
Columnists