Light fracturing Fresnels on Damen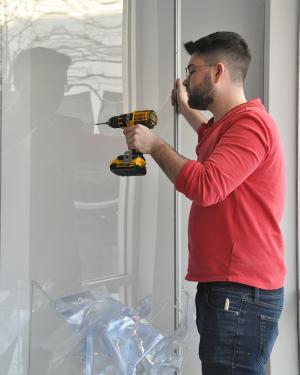 Using a sheet of polycarbonate, acrylic nuts and bolts and Fresnels, Samuel Schwindt created the sculpture in the window at 2139 N. Damen Ave., to play with light. 
What appear to be inflated plastic pillows, float in a cascading effect between ceiling and floor. Light beams dance up and down the structure with varying intensity, depending on the light sources washing over the exhibit and the intensity of the day/evening light. 
Those "pillows" and page magnifiers for reading are all possible because of French physicist Augustin-Jean Fresnel who, in 1819, worked on improving French lighthouse illumination. 
As a student  l a student concentration on sculpture and painting in the School of the Art Institute of Chicago, Schwindt's personal living space is limited, thus he had not seen his piece completed until he installed it. He was pleased and looking forward to viewing it at various times of day and night. 
Even during daylight hours, reflections of the exterior surrounding area played into the experience of his work. 
As he installed the exhibit, Schwindt shared his excitement about having this ever changing piece of work being the pilot installation in the SSA #33's (Special Service Area #33) Window Works program. 
The new SSA #33 initiative is to take vacant or underutilized store fronts along the district's commercial streets and enliven the walking experience along the public way, explains Jordan Miller, Art and Social Media Administrator, Wicker Park Bucktown Chamber. 
"Work began in July 2018 to engage contemporary Chicago artists. We provide funding to help realize their artistic visions within our neighborhood," Miller says. 
"These works will also assist property owners and real estate agents bring a little bit more life into storefronts," Miller added. 
The SSA is planning for 15 three-dimensional installations over the next year. They invite other artists to contact the SSA (773.384.2672), if they are interested in participating. 
The organization continues their mural project this year by adding two more murals. In their efforts to support the area's heritage of a home for artists and their art, they are participating in the Annual Chicago Sculpture exhibition.
Related:
Crime Stats By District
Columnists