Logan Square resident James Mesple's one-man-show opens in Wicker Park's Jackson Junge Gallery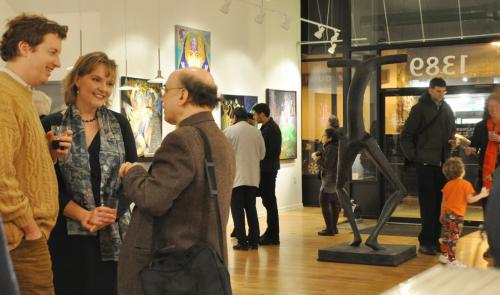 James McNeill Mesplé's one-man-show of 33 pieces, ICONS, MYTHS & POEMS, opened Fri., Jan. 18, with a stream of visitors flowing through the newly painted Jackson Junge Gallery, 1389 N. Milwaukee Ave. The show will continue through Mar. 10.
"Last July he (Chris Jackson) asked me to do this show, but there was no way I could paint this many pieces in that amount of time. So while there are some new pieces, there are old pieces, 9 pieces on loan from Printworks Gallery and pieces from private collections," explains the Logan Square resident Mesplé. "They are all in the theme of mythology, which I have done for over 30 years."
Created in a variety of painting forms including oils, aqueous, and mixed media, several pieces have a poem companion displayed. Effie Mihopoulos, like Elise Paschen and others, created poems based on Mesplé pieces. "Effie and I went to Northeastern together so knew each other for years," Mesplé commented.
Originally from the Ozarks in Missouri, this well known Chicago artist, came here in 1968 after two years studying art and music at the University of Missouri. "My second love is music, the bassoon and oboe. Actually there is an English horn in the painting, "Beethoven's Apotheosis." 
In Chicago, he went to and graduated from Northeastern Illinois University, then known as Chicago Teachers College. He stayed with his first position as a teacher at Francis Parker School in Lincoln Park for ten years. Then he taught part-time at the School of the Art Institute before devoting all of his time to his artwork.
His work appears to be very much influenced by his Missouri professors Fred Shane, who produced surrealist pieces, and regionalist (naturalistic and representational style) Thomas Hart Benton, who also taught Jackson Pollock.
On Feb. 9 between 2 and 4 p.m. in the Jackson Junge Gallery, there will be an Artist Talk and Poetry Reading with Mesplé and Paschen.
Related:
Crime Stats By District
Columnists