Non Grata audience smashes car during Force Majeure
Under a blackened sky in frigid temperatures with the occasional El train rattling overhead, snow occasionally falling (at one point infused with white feathers) and the pulsating sounds created by one of Non Grata's performance team members, a bus load of people viewed and/or participated in Force Majeure, Sunday night, Mar. 4. This is the second time that Joseph Raven's Defibrillator, 1136 N. Milwaukee Ave. has made Non Grata, the Estonia based performance art collective, available to Chicago audiences in the last year-and-a-half.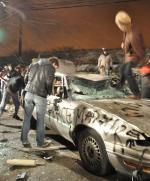 As the performance began in a side lot located on Carroll near Kedzie, the star... sturdy, gray with Wisconsin license plates...was in the spotlight. Non Grata's KA1 began an audio mix of continual pulsating sounds including a whaling siren interspersed with scrapes, metal tapping, string plucking, cymbals etc. He is, according to the team's leader Anonymous Boh (Al Paldrok), a techno animal, cyber poet and psychedelic activist from Zone Autonome de Terre-Blanque in Toulouse, France.
Anonymous Boh tells the audience parts of the story about a car accident in Sweden. In fact a friend's accident did inspire the first performances of this piece in various parts of the world. As Paldor explained pre-performance, "Cars are a great symbol to use to provoke interpretation. Our identities get so tied to a car that smashing one is a very anti establishment act."
Though much of the audience could not hear him on the megaphone, everyone watched Devilgirl walk around the car several times before working with Anonymous Boh to start a fire.
On top the car, Devilgirl danced with flames licking up from the roof as she sprayed more fuel to keep them going. The audience responded. Anymous Boh shouted phrases into a megaphone which the audience could hear only sporadically over  KA1's performance. His chanting engaged the crowd to join the chant... "We are creative...We are artists...We are brutal...We are passionate...We are brave...We are spiritual...Police siren, bring it on bring... "
Then sledge hammers were introduced for the audience to destroy the car. Men and women of all ages and sizes began hacking a way. Pent up aggression was often palpable. As Anonymous Boh explained it later, "There is animal inside the human being.  In this kind of demolition process, I am always surprised how quickly it all comes out."
Logan Square audience member Mitchell Salm said, "It makes you think that there are a million ways to create things that can yield a million different results. But, no matter how creative you are, when you destroy something, the result is always the same." Erika Grammel of Wicker Park agreed.
In the end, the car was not totally destroyed. "Car was strong. If there were more street people here, it would be more pancaked," commented Paldrok.
Related:
Crime Stats By District
Columnists