SAKURA, a study of Japanese Cherry Blossom through the lens of Doug Fogelson

Doug Fogelson is a local photographer with national recognition currently exhibiting a new series of work inspired by Japanese Cherry Blossom shot in Japan last spring.  Fogelson's photography is inspired by abstract expressionist concepts, delighting in the colours and textures in our natural landscapes.  He uses a process of over and under exposure to create rhythmic compositions.  He has exhibited around the country in museums and galleries predominantly focusing on the medium of photography but also creates work experimenting with light in a scientific manner.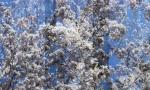 Fogelson is well known for his photographic landscapes of sea and clouds which evoke abstract sequences evocative of Barnet Newman in terms of the marginal composition.  In the cherry blossom series Pollock's drip paintings spring to mind, as one considers the natural and undetermined weave of the trees creating abstract lines.  Fogelson is passionate about capturing the beauty of the natural world in an age where our landscapes are being transformed by natural disasters and our own industrial abuse.
This exhibition will continue until June 10th and is a must see if you have not had the pleasure of viewing Fogelson's work. I am particularly fond of the pink cherry blossom series in this exhibition and enjoy the more subtle changes of exposure and overlapping of imagery.  Pagoda Red is the perfect environment for these images transporting you to the East in our own humble neighbourhood of Bucktown and Wicker Park.  If only one could be served some tea too, it would make ones visit idyllic.
Pagoda Red, located at 1714 N. Damen is open Mon. thru Sat. 10. a.m. - 6 p.m. Sun. noon - 5 p.m.

Photos courtesy of Doug Fogelson
Related:
Crime Stats By District
Columnists