SCORE! does
SCORE!, an exhibit of sports photography, does just that. It will be at the Chicago Photo Center (CPC), 3301 N. Lincoln Ave., until March 31 and should be on your "got to see that" list.
Scott Strazzante, a Chicago Tribune photographer, is an instructor at CPC. During one of his classes he took about 20 students to a Chicago Fire soccer game. So, when the center decided they wanted to do a sports show, they tapped Strazzante and Jose, another Tribune photographer, to curate the show. 
They reached out via different  photo sites and emails across the country. "We were really impressed with the quality of images in the 150 photos that were submitted from across the country," explained Strazzante. "The photographers varied too between professionals and amateurs. 
"Many photos were creative images, some showed decisive moments in action sports and others were feature photos. They were all quality images. Many of them showed amateur rather than professional sports, which was cool too. But, we could only select 42." 
The Best of Show went to Tom Dahlin and his unique photo of a Minnesota Twins baseball player. He used the type of camera used at horse races for photo finishes. As you can see, it produces an unusual image. 
Close-up images of activities like hockey and bull riding, in which you might never consider participating, give you a chance to pause and imagine or consider.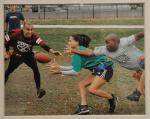 The show is interesting and fun, even if you are not into sports or photography. If you have never been to CPC, this is a good excuse to stop by. It is a wonderful resource.
As Strazzante said, "CPC is a celebration of photography. I think that places like this that are not-for-profit are so important to the community and they need to be supported. It gives people an opportunity to share photographs. It gives people whose work may never have been exhibited before a valuable opportunity. It is an amazing place that I've just started to get involved with in the last year and I enjoy being here."
Related:
Crime Stats By District
Columnists