Secluded treasures revealed
A treasure trove of prints by Polish artists from the 17th thru the 20th centuries lived a secluded existence in the Polish Museum of America's (PMA) storeroom until Monik Nowak, about four years ago. realized the rare works of art were waiting to be found.
Restored and framed in Poland, 120 pieces created between 1919 and 1965 by sixty-five well known Polish artists are on exhibit thru Aug. 29 in the Museum.
"Some of the graphic art is so rare that museums in Poland do not possess examples of them in their collections because they were destroyed during the Second World War in Europe," explains Ms. Nowak, PMA's Graphic Art Collection Curator. "It is incredible that such a rich and relatively unknown collection of Polish graphic art can be found in America's Midwest. The PMA has over 1000 prints which range from the 17th to 21st century, with emphasis on prints from the 1920's and 1930's.
The original sources for these pieces are so varied that the collection is extremely broad.  In some cases there are not great numbers of work per artist in others they have an extensive number of pieces, showing the depth of an artist's talents. It presented a challenge to Nowak when deciding how to hang the print exhibit. She met the challenge well, sometimes grouping by time frame other times grouping by content or style. Artists represented include: Jerzy Panek, Józef Gielniak, Stanisław Wójtowicz, Stefan Mrożewski, Maria Werten, and Stanisław Szukalski.
The breadth of techniques used to create the works in this exhibit are impressive. They are woodcuts, xylotype, lithography, etching, engraving, cellocut, linocut, dry-point and techniques created by many of the artists by mixing techniques.
There are many pieces that are dark, brooding communicating the thoughts and realities of the difficult times in Poland during the war years. But there are also wonderful expressions of joy, light and color as Poland and its people began having hope for the future.
Nowak's favorite pieces are from Maria Werten.  Born in 1888, Werten's work began during the Art Nouveau period which incorporated a Japanese influence. Both of her pieces in the current exhibition are lithographs from the 1920s, "Child" and "Woman Carrying Water," and reflect that influence. These are quite different from two watercolors in the PMA collection which are not on display.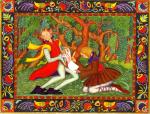 One is a 1930 watercolor (left) entitled "Twardowski." It is very colorful and has the feel of folk art. In contrast is another 1930 watercolor entitled "Nativity Crèche,"(right) which is more Art Deco. PMA's Werten collection is the largest in the world.
Prior to its arrival in Chicago, this exhibition was in the National Museum in Kraków from September  thru December 2009 and in the City Hall Museum of Wroclaw from January  thru February 2010.
"While only a selection of important examples of the Museum's holdings is on display, there are many more that languish in storage, waiting for their moment under gallery lights. Many of the items are 'hidden' because they are not inventoried and documented," Nowak commented.
The exhibit is a treat not to be missed. The spaciousness of the exhibition area permits one to be totally absorbed in the experience of each piece, whether you visit by yourself or with others.
Located at 984 N. Milwaukee Ave., the Polish Museum of America may be reached by phone at 773.384.3352. Hours are: Mon. thru Tues, and Fri. thru Sat. from  10 a.m. to 4 p.m.
Crime Stats By District
Columnists