Wicker Park resident brings art to Library's gallery space
A volunteer at the Bucktown-Wicker Park Library and a frequent visitor with his children, Mark Yee talked with the library's Branch Manger Lisa Roe about using the second floor wall space as a gallery. The third show is now hanging along the corridor and in the social area.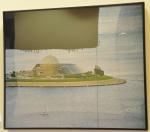 One of the three current exhibitors is Lucy Wood Baird. Fascinated by the weathered vestiges of promises made for buildings that did not get built during the economic crash, Lucy photographed their current state. 
Wood Baird works full time as an artist and creates pop-up galleries around the City. 
The two painters in the show are Joe Kennedy, an @properties agent, and Michael Burmeister, an artist and preparator at the Museum of Contemporary Art. 
Having begun painting at age 7, Kennedy became compelled to pursue a series of pieces around text. "I was working to find the junction between when something starts to become recognizable." he explained. "Each of these pieces has many layers of paint, which I would scratch off. 
"I use a surrealistic technique of auto drawing." As you view his pieces you may see words or parts of words.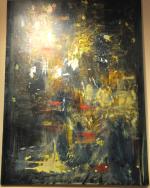 Burmeister's work brings more color into the show. Even the pieces that are dark have pops of bright color and slashes of sweeping brush strokes among patches of medium tones.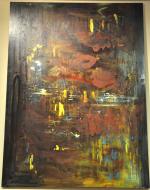 Yee encourages people who have never been to the Library to stop by and view the gallery and then see all that the library has to offer everyone in the area. To those who are frequent users….take a moment to take a deep breath and soak in some art culture.
The exhibit will be up through the end of June.
Related:
Crime Stats By District
Columnists