Chicago Grand Neighbors are concerned: GrandBar having 4th deleterious impact hearing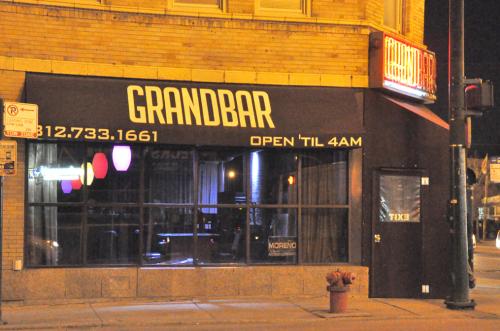 GrandBar, formerly known as Betty's Blue Star Lounge, 1600 W Grand Ave., at the corner of Grand and Ashland, has been a point of concern for neighbors for sometime. A 4 a.m. licensed bar, they will have their fourth deleterious impact hearing on Apr. 28 with the Chicago Department of Business Affairs and Consumer Protection (BACP). It is being held at 10 a.m. in City Hall, 121 N. La Salle Street, Room 805.
According to one neighbor who has lived next door for 7 years, "There has been an increase in noise and problems over the last three to five years. I am a city person but being repeatedly awakened in the middle of the night by gunshots and loud voices is a problem." 
Agreeing with him, another neighbor added that the bar's patrons park in front of their homes and leave trash "all over," which they find to be annoying and unacceptable. But finding drugs in their front yard, ramped up their concerns. Having young children, they both have concerns for their children's safety. 
Both are members of Chicago Grand Neighbors Association (CGNA) which has other members concerned about the establishment. Numerous complaints were submitted to 1st Ward Alderman Proco "Joe" Moreno, who talked with the bar owners. 
Then, in late August 2014 there was a shooting. That triggered Moreno to submit them, in September, to the Chicago Department of Business Affairs and Consumer Services as violating the Deleterious Impact/Public Nuisance Ordinance. As a Public Nuisance, they are put through a series of deleterious impact hearings. 
GrandBar had their first hearing on Nov. 4, 2014. About a week and a half later, they attended CGNA's November meeting to talk about the situation and indicate their intents. Issues that were brought up included, "pre/post loading" (drinking in and around their vehicles before and after leaving the bar), fighting, excessive patio noise, group public intoxication, discarded alcohol containers, car-break-ins, drug-use, urination, loitering, sidewalk confrontations and harassment, public sex, driving the wrong way on one-way interior streets and tagging. 
Despite two more hearings on Dec. 16 and Feb, 3, GrandBar was once again on the CGNA agenda on Mar. 31. Moreno talked about the situation, expressing that the requests to the bar were not unreasonable. He commended 12th District Commander Melissa Staples with having special police patrons when they could. And he spoke directly to GrandBar's Joey Swanson, the manager since last September. 
Talking about certain types of clientele, Moreno emphasized to Swanson, "When they are not welcome, they will not come. When you have a 4 a.m. license, you need to try to exceed expectations of the neighborhood." 
Swanson said that they had just put in an id scanner so that each patron has that scanned when going into the bar. Thus, they now know who has come into the bar.
Several neighbors at the meeting said that they did not feel that all the problems were solved. On the other hand, they emphasized that they wanted them to succeed. "I want to feel as though I can take my children in there to eat before the late night activities begin." 
This Sat., Apr. 25, Swanson told this reporter that they have dealt with all 13 items on the list from the last BACP hearing, In fact, he said that they have exceeded what was requested. 
He also said that as of three weeks ago, there have not been nor will there be any promoters booking their shows. "I am doing all the booking," he said. "When you look at who is coming into our place, they are 26 and 27 year-olds, many from the suburbs."
He also said that they created a Marshfield security team to walk along the street, telling people that "they can not park there if they are going to our shows." He said that when he found out about the trash problem, he sent people out to clean it up.
In talking about food sales, which many people feel would be an incentive for more local patronage, Swanson said that they have a Tavern license and they have a Commercial Food License but they are not required to serve food. They have heard what the neighbors have said and have made an arrangement with a local restaurant to deliver food to bar patrons. 
"To put in a kitchen takes time and money. We are working on that and have a plan for a complete all electric kitchen." He explained that that meant there were no flames in the kitchen. 
History
Betty Stokes, the bar's owner, started and ran the business starting in 1989. She turned it over to her son Gene a few years ago. 
In December 2013, the bar's liquor license was suspended for 14 days. 
Swanson, who is now managing the business, has been in the nightclub business for 20 years. 
"I had the Boom Boom Room, which used different venues including Red Dog and the Green Dolphin. We'd have 900 to 1,000 people and not once did we have any fights," he said.
Related:
Crime Stats By District
Columnists