A cup of coffee with a side of hope and occasionally an angel
A Sip of Hope, 3039 W. Fullerton Ave., is more than a coffee shop. It's a place where "it's ok NOT to be ok," to talk about coping…or trying to cope…with your own mental challenges or those of someone else and a place to occasionally meet an angel.
With hours from 6 a.m. to 8 p.m. (9 p.m. in summer), each day approximately 250 customers come through the door of the world's first coffee shop where 100% of the proceeds support proactive suicide prevention and mental health education. 
"Staff is non clinical," explains Brian Kmiecik, the general manager. "We are not a drop in center nor do we treat or diagnose. 
"We are trained in a non-clinical crisis interventional program called Mental Health First Aid offered by American Foundation for Suicide Prevention." 
Opened a year and a half ago, the shop was the culmination of a partnership between Jonathan Boucher's Hope For The Day (HFTD) and coffee producer Dark Matters Coffee. 
Dark Matters created a coffee blend called Sip of Hope, printed mental health resources on the bag, selling them in their shops and in stores. They donated a portion of the sales proceeds to HFTD.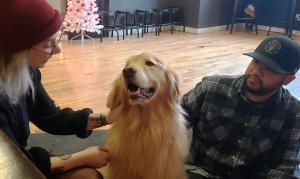 Sip of Hope's space is inviting on a regular day but it is made all the more warm, fun and comforting when a special friend visits. Her name is Tesla. She is a six-year-old Golden Retriever therapy dog (possible angel) from Arlington Heights who was "born with the right personality," says Tesla's mom, Sandee Thomas. "Even as a puppy, she was gentle."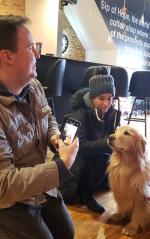 Tesla knows how to work a room and pose for the camera! Sweet and gentle, she seems to know who to  go to and how to interact. "Interact" includes just sitting next to someone or going up to them, looking as though she is ready to have a conversation. 
She worked her magic on a broad range of people while this reporter was there. 
What is Hope for the Day?
Created in 2011 by Jonathan Boucher, Hope For The Day was set up to reduce the suicide rate in this country. 
"On average, 121 people complete suicide in a day in the United States, totaling over 44,000 completions each year. When looking at it globally, that number climbs to over 800,000 completions each year, with more going unreported due to stigma. Every 40 seconds, someone completes suicide," according to the HFTD website. 
In those statistics are the names of 10 of Boucher's friends and family members. Those loses are what prompted him to create this Chicago-based non-profit organization that focuses on suicide prevention thru outreach and mental health education via the use of music and art.
HFTD's goals are to educate community, interact with individuals before a crisis and heightening the possibility of resources here in Chicago and around the world. 
What is Mental Health First Aid?
Mental Health First Aid training is from the American Foundation for Suicide Prevention. "In fact," says Kmiecik, "it is the community course our not-for-profit, Hope for a Day, teaches at the Chicago Public Library, 3030 W Fullerton Ave., across the street. 
"The course gives an  overview of how to be a good listener; how to respond to people in points of crisis;  how to recognize your own mental health; and how to respond after a point of crisis has been reached." 
Therapy Dog Power (Angels in disguise)
As described by Thomas, it is important to have therapy dogs be able to be a dog. We want her to love what she does. I read her body language. Sometimes she feels drained, like when working with autistic children. Then she needs to rest. 
Thus Tesla works no longer than one and a half hours. But in that time frame her power is amazing.
"During our first visit to a nursing home, I was told that one woman with Alzheimer's had become increasingly less able to communicate. Tesla went up to the woman. She started petting him and  then started singing," says Thomas with amazement in her voice. 
"A little boy at a day camp for foster care children in Lake Geneva  was quiet and shy…who knows what his background is. He would not participate in anything, not even swimming, boating, crafts…anything. 
"We walked in the area where he was. I asked if wanted to pet her. He wouldn't even look at Tesla. We went away then went back and Tesla laid down close to him. With a finger, he touched her tail. I knew that was good sign.  As time went on they became such good buddies that Tesla would find him among the 100 or more kids. She would laydown close to him and put her head on his lap." 
With or without Tesla, with or without a of need for mental health resources, with or without a crisis for you or others, Sip of Hope is a great place to grab a coffee and chill out!
Related:
Crime Stats By District
Columnists