Familiar face at Christkindlmarket Chicago: Marc Talleux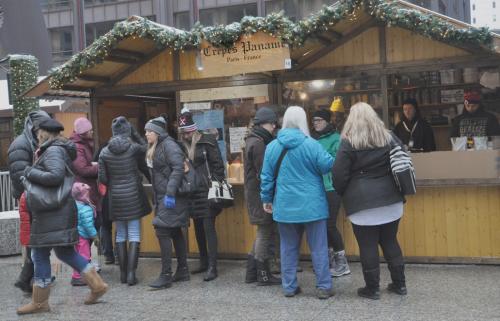 No need to wait until next summer's Wicker Park Farmers Market to enjoy Marc Talleux's savory and sweet crepes. Go to Chicago's Christkindlmarket in Daley Plaza. 
At the corner of Washington and Dearborn you will see the Crêpes Paname "cottage." Emerging from the steam, you may see Wicker Park's very own "crepe guy." Talleux's familiar face is seen along with some of his helpers as they fill their many orders each day. 
Open through December 24, the hours are Sunday thru Thursday from 11 a.m. to 8 p.m. and until 9 p.m. on Friday and Saturday. 
Talleux came to the US seven years ago because he met and married an American. Now he and his family call the Chicago area home. 
When asked what is his most favorite time in the Christkindlmarket, he said with a smile, "When it is over!" 
If you don't see him by Christmas, he expects to be back at the Wicker Park Farmers Market 2017. According to Molly Huber, the Special Events Coordinator, Wicker Park Bucktown Chamber of Commerce, "We're looking at a June 4th start date in 2017."
Related:
Crime Stats By District
Columnists