Garbage and noise bring residents, bars and alderman together on Division Street
Clanging, clacking bottles and waste truck noises in the middle of the night as well as overflowing trash containers in the alley behind bars along the south side of the 2000 W. block of Division St., caused residents to want some solutions. A meeting of bar representatives, vendors and residents with Alderman Proco "Joe" Moreno, aired the issues and produced a plan Wednesday night at Small Bar, 2047 W. Division. 
Fat Pour, InnJoy, Fifty/50, Janik's Café and Small Bar owners/representatives as well as a representative of Waste Management listened to the complaints of residents at a meeting chaired by resident Kirby Daniels.
The problems
They are:
Dumping of bottles and other trash at all hours of the early morning hours
Waste companies empting trash containers in the early morning hours
Overflowing receptacles
Receptacles not being properly stored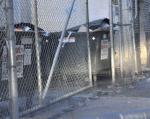 Being awakened in the middle of the night by clanking, clanging bottles and the groaning of garbage pickup trucks is detrimental to the lives of residents. "You wake up and your kids wake up and no matter what you do, you can't fall back to sleep," said one resident. Another said that they have even gone out in the middle of the night to talk with the offenders, which produced various results. 
The ordinance about noise pollution is clear:
11-4-2830 Loading and unloading operations
No person shall undertake or cause the loading, unloading, opening, closing or other handling of boxes, crates, containers, building, materials, garbage cans, dumpsters or similar objects between the hours of 10:00 P.M. and 7:00 A.M. in such a manner as to cause a noise disturbance within a residential district or within a noise sensitive zone. 
By law, garbage receptacles must be kept closed. Moreno asked the Waste Management company if there were other solution for locking the bins, aside from the chains. Unfortunately technology as not found a different solution. 
Some of the establishments have a garage apron but Fat Pour does not. They do have recessed space on their property. The issue is that trash receptacles must be kept out of the public way. 
Solutions
All sides agreed that they want the issues resolved by the businesses rather than having the City resolve it via Deleterious Impact action as has been done with such establishments as Krush, Congress Theatre and Congress Pizza. 
One of the simplest solutions pointed out was to "stage" trash inside the establishment after 10 p.m. and have the first person in the business the next morning, dump the refuse into the bins. Currently Small Bar* and InnJoy follow this procedure. 
According to resident and business owner Greg Nagel, Scott Weiner, one of the owners of West Town Bakery and Fifty/50 pointed out at a recent East Village Association Board meeting, that contracts with waste pickup companies are up to five years and they are very difficult to break. What does allow for breaking those contracts is if the actions of that company puts a business into jeopardy with the City. 
Agreement and consequences
The agreement at the meeting was that the businesses would give notice to the offending vendors and would work together to see if there might be a way to use one set of vendors for all the businesses. The later could possibly provide a better deal for all. 
Moreno said that he was glad to see all parties working together but this had been a problem before. While he hopes that it will be resolved by the business entities, he said that he would have his Streets and San Supervisor checking the alley early Thursday morning. Those not in compliance will receive a $500 ticket. 
*Small Bar on Division's last night of operation is Thurs., Nov. 13.
Related:
Crime Stats By District
Columnists