Rare Fruit Collective: Stop motion imbued with Chicago grit
Francisco Pato's creative mind is ever attentive as he bikes around Logan Square, scanning streets and alleyways for bits of material.
Clumps of frozen fabric, shards of glass or any detritus catching Pato's eye is thrown into a milk crate strapped to the back of his bike and taken to the studio to be cleaned, washed and implemented into he and his partner Hank DeVries' intricate stop-motion creations. 
Pato and DeVries are the founders of Rare Fruit Collective, a stop-motion company based out of Logan Square. Their love of stop-motion animation and their passion for storytelling led them to establish Rare Fruit Co. in 2003. 
Rare Fruit Co. primarily focuses on animating handcrafted miniature sculptures utilizing state-of-the-art rapid prototyping technologies and small-scale machining, which utilizes some of the material collected by Pato on his bike rides. You could say their work contains the grit and magic of Logan Square.
"I started doing armatures for puppets that DeVries would design and animate," says Pato, who primarily works with ball-and-socket jointed armatures. Armatures are the framework on which a sculpture is molded. These poseable skeletons allow the stop-motion world to move in tiny increments between shooting each frame. Pato and DeVries both create and animate the sculptures.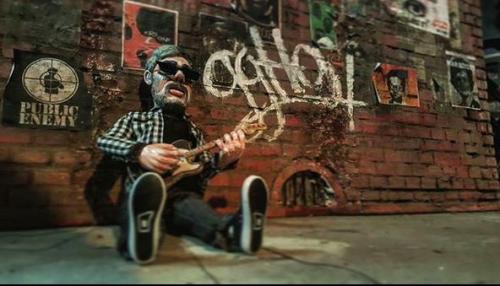 Much of Pato's work involves a combination of camera rig design, capturing the tone and feel of scenes as if the sets were life size, metal casting, 3D printing, miniature machining work, working with drill presses and tapping aluminum. It's an intensive process, but the quality of their work shines under the macro lens.
"Whether it is props, the environment, the world, or the characters... the way we usually work is DeVries has a character design that is sculpted out. I will figure out how to make it move affordably and realistically within the project budget and time frame," explains Pato.
Rare Fruit Co. has produced videos and designed and animated the mascot for Pacifica Labs Inc., creators of an app aimed at helping people with stress, anxiety and depression; made a promotional video for Grassroots Collaborative, a non-profit organization in Chicago; and, in March of last year, designed and fabricated all the characters in Alec Pinkston's irreverently clever animated short "Senataur," which won Tongal and Project Greenlight Digital Studios Next Great Animated Series contest.
Their stop-motion work is imbued with expression and emotion and it is well worth looking into.
You can find out more about Rare Fruit Co. on their website and instagram account.
Photo source: Rare Fruit Co. 
Related:
Crime Stats By District
Columnists