Wicker Park Bucktown Chamber of Commerce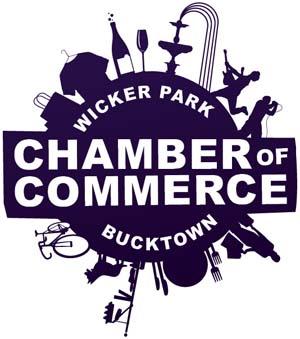 While providing innovative ways to increase commerce among its members, raising member visibility, and encouraging profitable relationships within the community, Wicker Park Bucktown Chamber of Commerce strives to foster a healthy economic climate of good jobs, capital creation, and honest, efficient government.
Located at 1414 N. Ashland Ave., their phone 773.384.2672. Executive Director Adam Burck is an active participant with many groups within the community and works with the WestTown Chicago Chamber of Commerce on activities along the Division Street corridor.
The Chamber has a long history in the community under such names as Milwaukee Avenue Chamber of Commerce, Wicker Park Chamber of Commerce and Greater Milwaukee and Ashland Chamber of Commerce. In 1985 they were instrumental in starting the Greater Milwaukee Avenue Economic Development Corp., focused bringing the National Trust's Main Street program to Milwaukee Avenue and in 2005 became the "parent" of Special Service Area #33, the WPB.
Several community events are presented or sponsored by the Chamber including Wicker Park Fest during the summer and Boo Palooza around Halloween.
Robert Gomez, the Chamber's President, is poised to lead the Chamber thru 2011.  As a local business owner,  he fully understands the needs and concerns of other business owners in the community. During these challenging economic times, he encourages new and long time businesses in the community to utilize the resources of the Chamber.
"The Chamber has a very close partnership with the Chicago Department of Community Development and a variety of business advisory organizations," states Gomez,  "The Chamber is able to provide the business community access and information on city funding sources for small business, educational seminars for new businesses and on-going programs for those businesses looking for new ways to market their services."
"The Chamber also serves as a means for business owners to network and foster  business to business relationships," states Gomez,  "Being actively involved in your chamber is the best way to get the most value for your membership".
Related:
Crime Stats By District
Columnists