WPB (SSA #33)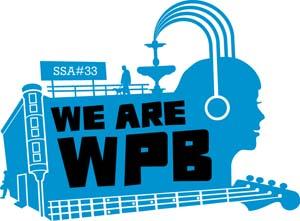 SSA #33, also known as WPB, is located at 1414 N. Ashland Ave., their phone number is 773.384.2672. Program Manager is Jessica Wobbekind.
Special Service Area #33 which includes the major commercial streets in the Wicker Park and Bucktown neighborhoods brands itself as the WPB. It is unique among Chicago's Special Service Areas* (SSA) for its size and eclecticism. It covers nearly fourteen miles of sidewalk which includes 3,565 parcels (roughly 64% residential), approximately 1,000 businesses and about 30 institutions.
A City of Chicago program focused on districts of contiguous industrial, commercial and residential corridors, the SSA is governed by commissioners who are selected from among the people within the district and then must be approved by the City Council. The WPB was established in 2005 for a ten year period and renewed in 2014 for an additional 15 years. The volunteer commission can have as many as 12 Commissioners. They oversee five working committees that are guided by the Master Plan.
The Master Plan was developed to further define their mission and determine priorities, they decided to develop a Master Plan. The planning process was an opportunity to develop a collective vision for the future of Wicker Park and Bucktown's commercial corridors, a chance to bring together the active, but often uninvolved constituency of neighbors, business owners, artists, institutions, investors, and visitors who enjoy and identify with the culture and social life along Western, Damen, Ashland, North, Division, and Milwaukee to think about the effects of change, and how best to integrate old with new.
Based on research and community input the Commission in 2007 determined that they faced the following challenges:
To preserve, encourage, and enhance the qualities of Wicker Park and Bucktown that make the neighborhoods and their corridors distinctly Wicker Park and Bucktown
To balance the needs and desires of all residents, visitors, and businesses in the allocation and expenditure of their tax dollars.
The resulting plan is intended to balance the good that comes from increased prosperity along the corridors and within the neighborhoods, with the strong desire to preserve local attitude and diversity and reinforce local arts, ecology, heritage, affordability and values. An update to the Master Plan is kicking off in the Fall of 2015. It is anticipated that this will be a community-wide undertaking and fully engage both neighborhoods.
Since their inception they have presented public arts projects such as The Orange Walls Mural Project in 2011 and 2013 and the Arts section of Wicker park Fest and provided funding for community programs Wicker Park's Boo-Palooza through a grant program, free community paper and electronics recycling days, landscaping and tree care, WPB branded bike parking, sidewalk snowplowing, supplemental garbage pickup and more.
*SSA is a Chicago program that facilitates a localized property tax levy that remains in the designated area for funding services and programs.
Related:
Crime Stats By District
Columnists