Near North West Arts Council and Wicker Park Art Center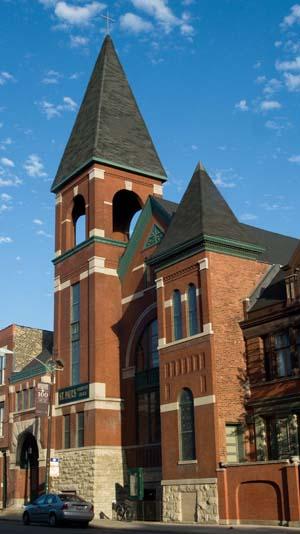 The Near North West Arts Council (NNWAC) was founded by artists, teachers and social activists twenty-three years ago with a goal of building a network of resources supporting a vital, vibrant arts environment in the neighborhood. The establishment of the Wicker Park Art Center in the heart of Wicker Park is part of the goal.
Located at 2215 W. North Ave. in a historic structure created by Norwegian craftsmen in 1890s, NNWAC provides space for a wide variety of art and cultural events;  educational training; religious gatherings; social meetings; and permanent space for several not for profit groups.  The phone number is 773.278.7677.
Activities in the Wicker Park Art Center (formerly St. Paul's Cultural Center) include art exhibits in many different media; theatre presentations by groups from home schooled children to international opera productions; concerts from blue grass to symphony; dance from ballet to interpretive; weddings; private parties; and a range of other gatherings.
Audiences and party goers alike enjoy contemporary activities in the ambience of century old elegance.
Laura Weathered, NNWAC Executive Director, describes her work, "My job is to see that artists and culture have a place to work, perform and live in Wicker Park."  This has been her focus since she came into Wicker Park working with commercial rehabbers along Milwaukee Avenue in 1984.  "Now everyone in the area and people who believe in providing cultural continuity and diversity in the heart of Chicago can participate in protecting this historic site as a permanent art center."
Photos courtesy of Iwona
Related:
Crime Stats By District
Columnists