Smith Park's 1st Annual Memorial Day Parade: An impressive success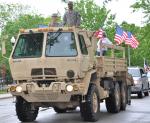 Smith Park's 1st Annual Memorial Day Parade organized in Sts. Volodymye and Olha Ukrainian
Catholic Church's parking lot, 2245 W. Superior, then stepped off from Oakley and Huron on Monday morning with the sun shining then the rain falling.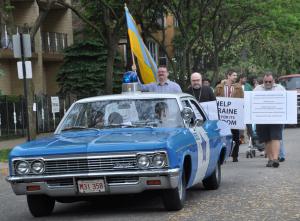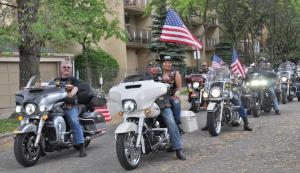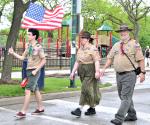 Many local groups were part of the parade as well. Boy Scouts and Smith Park Youth Baseball teams, several motorcycle groups were joined by old car enthusiasts including an antique Chicago Police squad car, a modern trolley and a large military vehicle.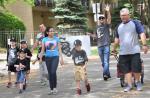 A crowd of at least 200 veterans, families, area residents, community organizations, businesses, the Chicago Police Department, the Chicago Fire Department and City and State officials gathered to honor the fallen and those who have and do serve to protect the United States and its allies. 
The Ceremony
Rev. Father Nicholas (Mykola) Dilendorf of Saint Volodymyr Ukrainian Orthodox Cathedral, 2230 W Cortez St., gave the opening prayer and then reminded those present about the fighting in the Ukraine. "They are battling against illegal annexation of the Crimean Peninsula and the Black Sea by the Russian Federation and battling an unprovoked aggression by Russian backed terrorists against the Donbass and Donetsk regions of Eastern Ukraine, where many innocent men, women and children have died in the past year and a half." 
Scott Waguespack, 32nd Ward Alderman, reminded everyone to remember, everyday, those who sacrificed their lives for their families and our country. 
Representing 26th Ward Alderman Roberto Maldonado, Alaina Rodriguez, a veteran, delivered Maldonado's praise of co-chairs David R. Ramos, President, Smith Park Advisory Council; Byron Watson, Jr. Vice Commander, American Legion Paul Revere Post 623; and Kathy Smith, President, Smith Park Neighborhood Alliance for creating the event to celebrate "our veterans and families" and to remember fallen heroes of all wars and conflicts. 
He also announced the building of the Borinqueneer Apartments, veterans housing at 1045 N. Sacramento, named in honor of the Army's Puerto Rican 65th Infantry Regiment. In addition Humboldt Drive will be named Borinqueneers Drive. Maldonado also announced that he will be spending $40,000 from his menu monies for the "restoration and beautification" of Smith Park's World War II tank. 
The ceremony continued with three Borinqueneers, from the Korean War, presenting the wreath, followed by comments from 27th Ward Alderman Walter Burnett.
 Proco "Joe" Moreno, 2nd Ward Alderman, reminded the audience that not everyone who fought for the U.S., some making the ultimate sacrifice, were documented. "My grandfather was one of them. His discharge papers said 'non-citizen.'" He asked that everyone support him and others in their fight for comprehensive immigration reform. 
"It is an awe inspiring site," said the 2nd Ward's new Alderman, Brian Hopkins, about the view of the 40,000 grave sites each adorned by a flag for Memorial Day at the Abraham Lincoln National Cemetery in Elwood, IL. He encouraged anyone who has not experienced that sight to visit. "It is the mid-west's Arlington National Cemetery. Volunteers place the flags there each year for Memorial Day." The 16th President, Lincoln founded the National Cemeteries on July 17, 1862. 
Kurt Summers, Chicago Treasurer, said that we owe our lives to those who sacrificed theirs. "They made the ultimate sacrifice for us, we owe it to them to come together as a community no matter how different, how difficult, no matter what the policy challenges are, what the financial challenges are. We are one city, we are one country and people have fought and died and paid the ultimate sacrifice for us to live and enjoy this great democracy. Let's enjoy it today and remember them every day of our lives." 
Both President of the Illinois Ukrainian Congress Committee of America (UCCA), Alex Striltschuk, and Lieutenant Roy Whitmore, on behalf of the Chicago Police Department's 12th District Commander Edward Kulbida, said a few words before Kathy Smith read Flanders Field. The poem was written during World War I. 
Bugler Vince Divincenzo played "Taps" followed by Police Officer Steve Coyne who played the bagpipes. Otto Blanco than sang the "Star Spangled Banner," after which Raphael Carrion, sang "God Bless America." Pete Kalenik, American Legion Paul Revere Post 623 Commander, also a Chicago Police Officer, was followed by another Chicago Police Officer, David Ramos. 
Ramos explained that it was just a year ago, following the 2014 Memorial Day service, that a few people created a dream to make this year's event include a parade. They talked all summer and into the fall and winter, applying for permits in December 2014. He then thanked a very long list of people for the help and work which made the 1st Annual Memorial Day Parade a reality. 
Illinois State Treasurer Michael Frerichs gave the keynote. Acknowledging that Memorial Day has expanded beyond honoring those who fought in the name of freedom, sacrificing their lives, to include soldiers who come back but are never the same again and those who silently carry the burden of war. 
He reminded listeners that the first celebrations of the day were called Decoration Day. The graves of Civil War soldiers were decorated "as a simple act of kindness, gratitude." He then recounted a legend that led to the first Decoration Day. Women in the confederacy decorated the graves of the southern soldiers only to leave barren those of the union soldiers. Other southern women saw the indecency of such a gesture and quietly corrected it. Three years after Appomattox the services to honor the Civil War dead grew more formal 
General James Garfield made a speech at Arlington National Cemetery, after which 5,000 participants decorated some 20,000 Union and Confederate soldiers graves.
The day ended with food for everyone and was to include a performance from Jessie White's Tumblers. Unfortunately, Mother Nature had a different idea, drowning out their planned high flying performance.
Behind the scenes
The professional way the Parade was staged was thanks to Louis Rago, owner of The Original Rago Brothers funeral home, 624 N. Western Ave. Rago has been the coordinator of the Columbus Day Parade for years, according to event Co-Chair Kathy Smith.
During the ceremony, as the "Star Spangled Banner" was being sung, the microphone stopped working. Co-Chair Bryon Watson quickly helped to remedy the problem but the song was uninterrupted because the entire audience joined Otto Blanco in completing the song.
Three officers from the 12th District who were helping with safety included Officers Officers Pruszynska, Mionskowski and Tamez.
By the conclusion of the event, people were already talking about "next year." Ramos said that they may consider doing it on a different day because many groups who wanted to participate were committed to two other events on the weekend.
NOTE: For anyone who has ever attempted to bring so many groups together, you know it is NOT an easy task. This tri-chairmanship of Ramos, Watson and Smith did an outstanding job....congratulations!
Related:
Crime Stats By District
Columnists