St. Paul's Cultural Center renamed Wicker Park Art Center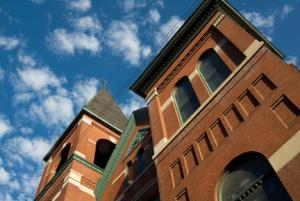 Near NorthWest Arts Council (NNWAC) announces the renaming of their location from the St. Paul's Cultural Center to the Wicker Park Art Center at 2215 W. North Ave. in the heart of the Wicker Park Historic District.
"This is a continuation of our commitment to local arts and culture," said Laura Weathered, NNWAC Executive Director.  "NNWAC in association with many arts partners is striving to create a flagship cultural amenity serving music, literary, film, theater and visual arts in a permanent home."
The twenty-four year old artist's organization is able to offer the location to individual's as well as organizations.  It is the venue for weddings, parties, meetings and other gatherings.  Weathered encourages people to go to their website where they may read about up coming events, offer to volunteer and make donations.
Photo courtesy of Iwona
Related:
Crime Stats By District
Columnists