Laborers' Local One sends message to LG Construction: Two giant rats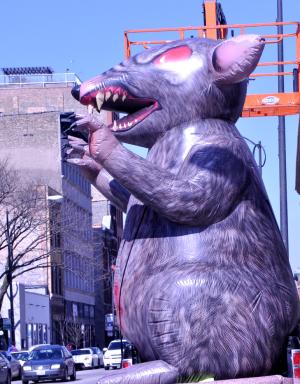 Two giant inflated rats were "installed" Friday along Milwaukee at the LG Construction & Development project under construction. Laborers' Local One also had picketers at the 1237-53 N. Milwaukee Ave. site. 
"We hired Laborer's Local Six on that site to do final clean up on units," said one of LG's owners, Brian Goldberg. He was uncertain why Local One would be at the site. 
Most workers on the site are LG workers, who are not members of a union.
As described by others in the industry, even though some developers who appear to be of the size that can hire all union workers, sometimes they have projects of a size that can not support union wage workers. 
"I renovate and build small projects," said another developer. "I don't use union workers because I can not afford to." He went on to detail how union costs would drive up his square foot costs so he literally could make no money.
Calls to both Local One and Six were not returned.
This project started going to the community in November of 2013 and received final approval in August 2014 from the Wicker Park Committee.
Related:
Crime Stats By District
Columnists