Proposal for 95 more TOD units in Logan Square meets opposition
Logan Square residents, property owners and business owners were packed into Alderman Proco "Joe" Moreno's 1st Ward Office, 2058 N. Western Ave., Wednesday evening, as they listened then responded to a development team who is proposing a 95-unit, 7-story masonry building project with 44 car parking spaces and one-to-one bicycle spaces at 2835-45 W. Belden. 
Proposed project
Under contract for purchase, the 17,500 square feet of land currently is home to four buildings, industrial, mixed-use and residential. Within 600 feet of the California Blue Line station, the proposed building is to fall under the Transit Oriented Development (TOD) ordinance. 
With 2835 W. Belden next to the Blue Line tracks, architect Laszlo Simovic, Laszlo Simovic, Architects, LLC, designed the structure with indoor parking (car and bike) and a lobby on the first floor and residential rental units on the other 6 floors. The square footage of the proposed units ranges from 600 to 1,000, with a mix of 1 two-bedroom, 9 one-bedrooms and 6 studios per floor. They are to be handicap accessible and some are handicap convertible.  
The 75 foot high building goes lot line to lot line on the north and south with a three-foot separation on the east and west and a 15-foot setback on the alley side. Featuring open terraces on the second floor and balconies above, the  building's design is a reverse "C" shape with a courtyard open to the west. Other amenities are a community room, green roof with a small room and adjacent roof–deck. 
The developers are committing to 10% onsite affordable housing, based on median incomes. That commitment is for a 30-year time period. 
Developers, Barry Sidel and Mark Odower are asking for a zoning change from C1-2 to B2-5. (-2 has a height limitation of 45 feet while a -3 or -5 are to cap off at 65 feet. A TOD can change that height restriction). Attorney Rolando Acosta, who made the presentation on behalf of the project, pointed out that the project is geared to people who do not have cars. 
Questions and Answers
Acosta masterfully chaired the discussion part of the meeting during which information, questions, concerns and objections were expressed. Some participants calmly asked for more clarification or made comments about the project and others expressed their frustrations and anger more vigorously. 
Primary issues were:
Parking
Height, density and community impact
Affordable housing
Parking
Current residents and businesses say that street parking is a problem now. Many believe that 95 units with only 44 parking spaces is going to make congestion and parking next to impossible. 
Using Buono's building at Division and Ashland as an example, Moreno said that though people sign a lease in which they are encouraged to not have a car and informed that they will get no parking permits in the area, there is no way to guarantee that they will not have a car. But, he said, only one person has requested permit parking since Division/Ashland opened and Moreno did not give them one.
A local attorney, with offices across the street from the proposed project, urged the developer to consider more parking because her clients have problems trying to park during the day. 
The developers and Moreno indicated that the fact that renters will not be eligible for permit parking could be put into the Belden leases. 
Height, density and community impact
Most people in the meeting appeared to object to the height and density of the project. Their reasons ranged from how a 7-story building overshadowing surrounding properties to increased property taxes, increased rental costs and changing the character of the neighborhood.
The two renderings shown took "artistic license" when showing the surrounding properties. They were shown higher than they are, thereby not matching reality with the actual site. Several expressed their opinions about the fact that that was misleading. 
Many in the audience responded to the arguments from the developers and the Alderman about the need for more units to increase the lowered population, by pointing out that there are between 600 and 700 new units on tract to be added along Milwaukee Ave. corridor already. Moreno indicated there were less.
Local observer and tracker of the comings and goings of population and structures in the area, Wicker Park's Paul Dickman, points out that while the family sizes have declined considerably and that the total City population numbers have gone down, the number of units in the area have gone up slightly. 
He says that between 2000 and 2010, the Logan Square community area, comprised of 29 census tracts and at least three official neighborhoods, lost 9,120 people. A decline of 11.03%. He further explains what the population changes looked like: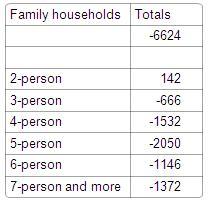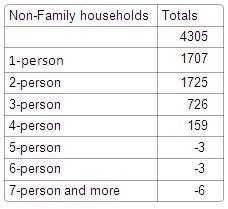 "Note that there are massive losses in 4-5-6-7 person families and big gains in 1-2 person non-families, but not enough to make up for the losses," he says. 
While someone at the meeting indicated that there was a loss of 15,000 people in the last 15 years, Dickman stated, "According to 2013 estimates, there was a drop of 800, but the margin of error is +-1800!" Thus the total loss in 15 years would be at a max of a population loss of 10,920 not 15,000. 
Regarding unit counts of new units approved to date in the area TOD California station area, there are:120 units for 2211 N. Milwaukee, 213 for 2255 N. Milwaukee, 52 for 2238 N. Milwaukee and 40 for 2244 N. Milwaukee. That totals 425. If the Mega Mall comes in at 267, that would take the count to 692, increasing to 787 with this proposal for 95 units. 
Using the Census Bureau's 2013 five-year estimates for the four census tracts shown for above additions, there were about 5,191 units in 2013. Thus the upcoming 787 units will produce a 15% increase in units since 2013. 
Regarding impact on the community, Moreno pointed out that to be able to improve the area, he needs more "tools in his tool chest." One of those tools is Tax Increment Financing (TIF).
Other developers have come to him about this property and wanted TIF dollars for their proposed projects. "These people did not. This will put $150,000* in the TIF that will allow me to spend on other things…green spaces, school play lots and bringing in a 100% affordable complex on Milwaukee." 
He said that he could neither speak of the potential affordable complex or a grocery store because it was not a done deal as yet, but it would be soon. Moreno introduced the possibility of a grocery store in November 2014 during meetings about Buono's towers, 2255 N. Milwaukee. 
Affordable housing
Many want to see more affordable units and some feel that the index used to calculate "affordable" does not address the lower incomes in the area. 
A couple of people pushed for 15% vs 10% but one man said, "Why not 50%?" 
The developer has committed to have affordable onsite. Moreno strongly "encourages" developers to have onsite vs buyout of the 30-year obligation or the placement of affordable units on another project they create elsewhere in the City. 
According to another participant, Chicago Housing Authority (CHA) has something like $400 million in a CHA voucher program. This pays the difference between market value and what the renter can pay. He asked if the developers would consider this. 
"We are no longer in the position of 1985 when we were desperate for any kind of investment . We're now in a neighborhood that is in the opposite position and we need development of human resources so people can stay," says Dr. Jesse Mumm, who grew up in Logan Square. 
Completely bi-lingual, he spoke briefly at the meeting but had much more to say during the We Are/SOMOS Logan Square rally and march in the 2200 block of Milwaukee Ave. on June 24.
What will happen next
The most contentious part of the evening was when a resident asked, "If the a majority of the community comes out and says 'Alderman Moreno we do not want you to change the zoning.' As an elected official, would you listen to the majority of your constituents?"   
"Yes, of course, that is why I have these community meetings," Moreno replied. 
"In my experience that has not happened," she said. 
At that point the conversational tone rose. Moreno said that he had not sided with her regarding Buono's Towers but that he listened to the majority of the people. Though she said that she was talking about this project, he continued to talk about the 2255 N. Milwaukee project.
"When organizations like LUCHA (Latin United Community Housing Association), Bickerdike, Puerto Rican Agenda, P&D of Greater Goethe Association support it and I get 1,012 emails that supported it, I support it. 
"Now I understand that you didn't. But when we had 20 people come and testify in support of it and 20 of those people were all Latinos except for one who grew up in this neighborhood  and 15 other that didn't grow up in the neighborhood are against it, that is the majority and I listened to it." 
Acosta, in answer to several different requests indicated that the development team would take what they heard at the meeting and do what they can to accommodate as many requests as possible before coming back again. 
Moreno said that he would not support them with the existing plans at the next zoning meeting at the end of July. He said that he would bring the project back to the community.
*The 1st Ward Office has not responded to a request to clarify calculations for this figure.
Related:
Crime Stats By District
Columnists