Sterling Bay's Lincoln Yard update: Community predicts little transparency and more obfuscation…could a full master plan be revealed?
In advance of Sterling Bay's Nov. 29, 6 p.m. Lincoln Yards update meeting at 1001 N. Crosby St. in the Park Community Church Renew Chicago auditorium, Andy Gloor, Sterling Bay's Managing Principal, sent out an invite, along with five misconceptions and facts this last week. But, could two new models, which surfaced on the internet, mean a Master Plan will finally be revealed? 
"It is just shocking to see developers trying to max out density on the backs of taxpayers. Clearly they [Sterling Bay] want an $800M TIF to support their enormous private profit," says Christina Granfield, Executive Director of Friends of North Branch Park, after seeing models on line that were commissioned by the architectural firm of  Skidmore, Owings and Merrill (SOM).
Individuals, community groups and Aldermen Scott Waguespack (Ward 32) and Michelle Smith (Ward 43) have repeatedly requested a Master Plan for this project but have been told that there is none. 
Images of new illustrated models appear to show there maybe alternative ones now for Sterling Bay's 70 acres of land along the River between North and Webster Avenues. 
According to professional advisors working with the Friends of the North Branch Park, the cost of doing these high quality models would not be incurred unless they were the basis of a Master Plan. 
On Mike Nowak's Sunday show, before the new models were found, Waguespack along with Kate McCarter and Granfield from the Friends of North Branch Park, expressed frustration and concerns about the lack of planning and transparency for the Lincoln Yards portion of the North Branch Industrial Corridor along the Chicago River. 
They warn that this once-in-a-lifetime project can have a negative impact on, among other concerns, segregation and the environment across the entire City. Sterling Bay's current, vague descriptions to date show an entire new City being put in along the River between North and Armitage Avenues, but with no public parkland. When asked about specifics, their answers have been that there are no specific plans as yet. 
Background
Actions to develop Mayor Rahm Emanuel's Industrial Corridor Modernization Initiative began with developing a Framework. A process of meetings was to result in a Framework for the development that will occur. 
Sterling Bay, Chicago's Department of Planning and Development (CPD) and 2nd Ward Alderman Brian Hopkins, in whose Ward the project from North to Armitage Avenues sits, indicate that there has been transparency in the process, which began in the summer of 2016. 
Below is City documentation of the process.
Community members of many neighborhoods as well as Waguespack and Smith, whose wards are next to the North Branch Development and prior to the last redistricting, contained this area, strongly disagree with the openness of the Framework process. The Framework will be used for all development in the corridor, regardless of developer. 
At Sterling Bay's first public presentation of their Lincoln Yards plan in July 2018, there were five major concerns expressed by attendees. Transparency, transportation, public space, preservation and density were those five, according to Chuck Sudo, BizNow Chicago. 
Though the November TIF meeting was to only address the TIF, audience members continually stated that they saw no evidence that all the public input given made it into the current plans. DPD staff said that it did, but when asked to identify what that was, they said they did not have that information. 
Lack of open communications and negotiations have caused a chasm between the community and the combination of developers, DPD and Hopkins. Community members said things such as, "they were not listening" and "they don't get it, or they don't want to get it." 
On his Sunday radio show, Nowak suggested, "Everyone in the City should be up-in-arms in the streets with pitchforks." Characterizing the project as being "jammed through," Waguespack said, "it is going backward full speed." He criticizes Sterling Bay for not stepping up and saying what they wanted so that negotiations could be made with the community early on in the project. 
As it is, he believes that Sterling Bay has made it more difficult for themselves. "This is a project," said Waguespack, "that will affect the climate, the environment and future generations." 
Sterling Bay's Project View
"Lincoln Yards is a proposed commercial and residential development that would spur significant investment in neighborhood infrastructure, roads, bridges, open space and parks," says Gloor in his letter about the upcoming meeting. "It also would enable environmental clean-up and restoration for a large area that has suffered neglect and the negative effects of more than a century of heavy industrial use. 
"The project would create unprecedented economic benefits for the city, create tens of thousands of jobs and generate tens of millions of dollars in tax revenue for public services annually." 
Community Project View
Not just Lincoln Park residents, where most of the land is located, but all communities whose residents want and/or need to go to or come from the Lake are in traffic jams now. Adding more stress on infrastructure will make the quality of life lower, according to community groups and their allies. 
At last week's proposed TIF meeting, the community asked that setting up a TIF be postponed until it is known what the development is to include.
Loud and clear, the community has several major issues on the table, including having a park. They have gone as far as saying, "no park, no deal." They have put forth various suggestions about getting the General Iron property and suggested making that a 24-acre park.
These newly discovered models seem to show it all.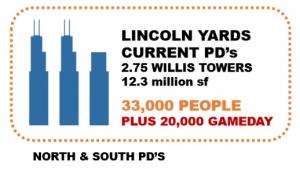 Sterling Bay owns 52.78 acres (12.3 million square feet) which are in two Planned Developments. That is an equivalent in people density of 2.75 Willis Towers (33,000 people per day) and another 20,000 people on gameday, if there is a stadium. They are on track to own a total of 70 acres (19 million square feet), a total of 4.2 Willis towers (54,640 people per day) and another 20,000 people on gameday.

They have indicated that 39% of their 52.78 acres will have a 20.75 acres of "Total Public Benefit Area." In that breakdown is 1.17 acres of "shared venue rooftop," 2.53 acres of "shared stadium Field" and a total of 10.47 acres of parks and plazas.
Residents question the use of such things as rooftops to b counted as open space.
However, privately owned open space is not public land on which the public has such rights as booking use of space on a specific date for a specific time, points out Juanita Irizarry, Executive Director, Friends of the Park (FOTP). 
Note how much space is NOT in Sterling Bay's proposed plans. It is approximately 85 acres that all can be developed to the density Sterling Bay is proposing. 
Where is the City?
Chicago residents have done research, attended meeting after meeting, discussed findings, talked with Alderman Hopkins, Sterling Bay representatives and members of the Chicago's DPD and even conducted surveys. 
"The City has practiced and enabled a concerted strategy of divide-and-conquer.  They've impeded meetings and impeded the press. Now they're revealing plans with a piecemeal approach that leaves the public in the dark, unable to advocate for a livable community. The DPD commissioner [David Reifman] is working on behalf of the same people he served in the private sector just three years ago. They've collapsed the line between public and private. And we're left picking up the tab," says McCarter.
Perhaps Thursday's meeting, starting at 6 p.m., will provide some answers and that questioners will be shown how they were listened to.
*Images found on RJModel's website 
Related:
Crime Stats By District
Columnists