Two community meetings about Lathrop Homes scheduled for this week
The Chicago Housing Authority (CHA) has scheduled a public meeting about the redevelopment of Julia C. Lathrop Homes on Tues., July 30, at 6 p.m. in the New Life Community Church, 2958 N Damen. The night before, Alderman Waguespack, 32nd Ward Alderman, has scheduled a meeting to discuss the process, plan, and next steps for Mon., July 29, at 6:30 p.m. in the Bucktown/Wicker Park Library, 1701 N. Milwaukee Ave.
The Lathrop Homes public housing complex is a CHA owned property that has served many people since it was created on the 32-acre parcel of land along the River in 1938. Not only were the two-story brick row houses and three- and four-story apartment buildings designed by well known architects but the landscaping was designed by Jens Jensen.
"I lived in Lathrop homes from my birth until I was 21 years old. That community helped me and so many others to be successful citizens. Please don't tear it down to cater to the rich. It should be preserved as an investment for future generations. The green space, the landmark architecture, and much needed affordable housing are what the city needs, not more Million dollar properties. Renovation, along with social programs to help the Boys and Girls club are a much better solution.," said a respondent to previous Lathrop Homes story. 
In 1999 only 747 units were occupied. In 2000, CHA stopped leasing units, claiming rehabilitation would begin in 2001. No rehab work was completed and the occupancy continued to decline, with only 170 units occupied in 2011. Between 2001 and 2010 32% of the total repair dollars designated for Lathrop went unspent. In their Fiscal Year 2010, 98% of repair dollars went unspent. 
Though the structures remained sound, the heating system has continued to disintegrate and CHA claimed that as the reason for closure of the northern half of the complex. 
In 2007, the complex was put on Landmarks Illinois' 2007 Ten Most Endangered Historic Places in Illinois.
Redevelopment planning began in 2008. On Jan. 7, 2010, a Request for Qualifications(RFQ) was released by
Habitat Company and the CHA. Their goals were to retain a master developer to revitalize the site as a model for sustainable affordability and to seek LEED ND certification. Six teams responded to the RFQ. A 5-partner development team, Lathrop Community Partners (LCP), was approved by the CHA Board on Oct. 21, 2010. It was composed of Related Midwest, Magellan Development Company, Ardmore Associates, Heartland Alliance and Bickerdike Redevelopment Corporation.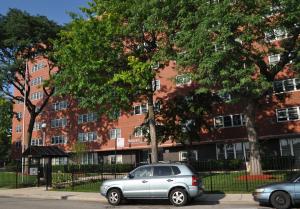 On Nov. 17, 2012, LCP and CHA held the first of the community meetings to present proposed scenarios.
They quickly stated that their presentations were of "concepts" versus proposals, when it was clear that there was next to no agreement with what they presented. 
According to the presenters at the meeting, "Following the initial open house, CHA and LCP will use the community input to inform and refine a second generation of plans. These plans will then be presented at a second community meeting slated for early next year. Additional community meetings will take place in spring 2013 working toward a final master plan that will have been shaped by the community process." 
The National Register for Historic Places, put Julia C. Lathrop Homes on their list in 2012. 
Communications and specificity about the plans has frustrated and angered public officials, residents and neighbors. Even now, what has been stated for the counts of proposed units a few weeks ago have changed, according to those who have been meeting with the developers. 
One major fact is that on a site designed for 925 low income units, the count will be hundreds less for low income and more than 500 units will be market rate. Total number is between 1,208 and 1,116. Another fact is that despite the fact that the surrounding area is saturated with retail, they are adding retail to the site with retail parking  and proposing to add streets to support the retail. 
Furthermore the plan is to demolish all the buildings south of Diversey except the power plant, the 8-story senior building and two other buildings between Leavitt and Hoyne on Diversey.
Related:
Crime Stats By District
Columnists