Illinois' "One State 2020 Arts Conference" brings opportunity directly to you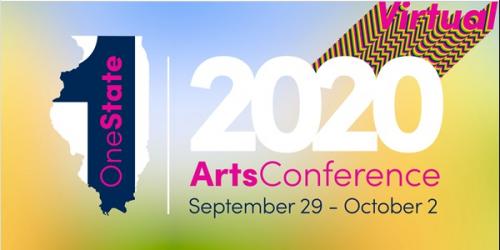 One State 2020 Arts Conference, which is running virtually, Sept. 29 thru Oct. 2 is open to everyone free. However, they are making it possible to make a donation when registering. 
Their theme is to provide tools for rebuilding, revitalizing and reimagining the future, with an understanding that the work can only be successful if it centers around racial equity. 
The one thing that the organizers determined is an immediate need for in this country  is connection to community. Thus they are looking at how the arts and culture sector is interacting and intersecting with the current political moment and is providing lots of opportunities to be in community with others. 
MacArthur grantee Mel Chin opens the conference with the keynote address at 1 p.m., Sept. 29.
An exclusive on-demand viewing of the documentary film "Seasons of Change on Henry's Farm"from local filmmaker Ines Sommer will be made available to everyone who registers for the conference. There will be a Q&A with the filmmaker on Oct. 1. 
"This timely film follows an organic farmer in Central Illinois grappling with the future of farming in this changing world," explain the organizers.
CLICK HERE
 to see Henry's farm story. It is a story behind all the farmers at our local Farmers Markets.
One State is being made possible by Arts Alliance Illinois, in partnership with Illinois Arts Council Agency (IACA), and with funding from IACA and the National Endowment of the Arts 
Conference Content
"This conference is overflowing with amazing sessions, incredible speakers and highly interactive moments," say the organizers. 
"If you look at this schedule and are nervous about making it to all the sessions you want while also juggling Zoom fatigue and all the life responsibilities 2020 has piled on top of you -- it's okay. We understand." 
Thus, many of the sessions will be recorded and made available after the fact.  
They recommend focusing on the interactive sessions and experiences you want to have.  
Schedule
The conference begins with a keynote on Tues., Sept. 29, and ends with a short documentary film showing the process of One State artist grant project BLACK PURPLE BLOOM. A Q&A will follow, facilitated by curator Maggie Wong, and an invitation will be given to the One State participants to order their own bloom-making kits.
A description of the Sessions is available here and the daily schedule here. To register for the free conference, click here.
Related:
Crime Stats By District
Columnists