The 2nd Annual Family Fun Fest in Wicker Park was filled with family activities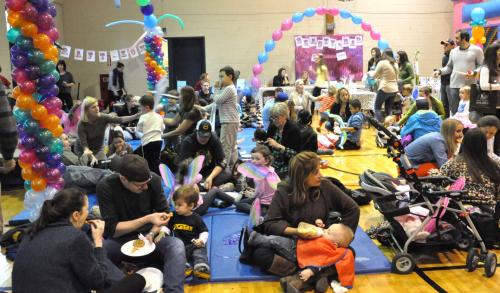 The 2nd Annual Family Fun Fest in Wicker Park's Field House gymnasium, 1425 N. Damen Ave., was a four-hour high energy event for all members of the families on Sat., Nov. 16. which even included Elmo.
Everyone had a variety of choices from which to chose how they were going to participate. The room was filled with tables of activities set up by many community organizations and businesses. In addition, there was a bounce house, a stage, food, prizes, music and performances to delight the 80 families who participated.
Organized by the Maternal Child Health Advocacy Council (MCHAC), the event last year netted them $4,500. They look to surpass that amount this year. This year's proceeds are to benefit PCC Community Wellness and Wicker Park Advisory Council's Special Summer Programming.
"This is a community event that includes people, organizations and businesses from the community. We are so pleased to partner with the Wicker Park Advisory Council and Park, they make having an event here such a dream," commented Melanie Wolf one of the event organizers.
Related:
Crime Stats By District
Columnists