Crowds take to the streets in Wicker Park, despite the heat

Teeming with Wicker Park Fest goers from Paulina to North Ave., Milwaukee Ave. was bustling with activity despite the unrelenting heat. Hundreds of people roamed from booth to booth looking for one of a kind tees, jewelry, unique finds, delicious funnel cakes, aromatic candles and craft beers.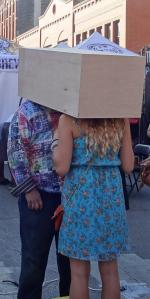 Eating and shopping were not the only things on many fest goers' minds, it was the music. Spread between three stages (North, Center and South), each offered original music or entertainment that pleased most of the 70,000 fest goers.
The North Stage the performers were LVL UP, Big Ups, Rozwell Kid, Krill, The O'My's, We Were Promised Jetpacks, Charles Bradley and His Extraordinaires, The Magnifiers, Made Violent, Rad Payoff, Restorations, ShowYouSuck, Spitalfield, Pianos Become The Teeth and Deafheaven.
The Center Stage the performers were of MaZi Dance Fitness, Yoko and the Oh No's, Heaters, Happyness, White Fence, Bollywood Groove Dancers, Oshwa, Delicate Steve, Empires and The Soil & the Sun.
The South Stage the performers were of School of Rock Chicago, American Wrestlers, Beverly, Open Mike Eagle, In Tall Buildings, Jacuzzi Boys, Blonde Redhead, School of Rock Allstars, Charly Bliss, Lazyeyes, The Velvet Teen, The Life and Time, This Will Destroy You and Veruca Salt.
Despite the many performers on stage there were interesting off-stage performances going on. From large multi-colored whales to secret conversations in wooden boxes to fun in a mobile photo booth, creativity was the star of Wicker Park Fest. 
Related:
Crime Stats By District
Columnists