Humboldt Park site of 19th Annual Dyke March Collective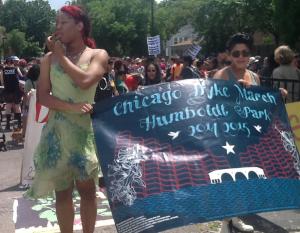 The Dyke March Collective held its 19th Annual Dyke March* on the city's west side on June 28, the day before the city's annual PRIDE Parade. 
Attracting nearly 1,200 participants, this year's march was held in Humboldt Park for the first time. 
Individuals and organizational representatives gathered in the parking lot of the Roberto Clemente Community Academy, 1147 N. Western Ave. They marched west along Division Street culminating with a rally and picnic at the Humboldt Park Boathouse, 1359 N. Sacramento Ave.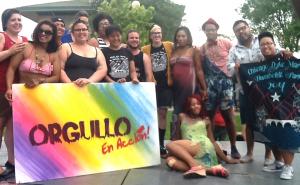 Dyke March Chicago and Orgullo en Accion joined forces this year to jointly produce Dyke March 2014 along with the 9th annual Latino/a LGBTQ** Pride picnic. 
Performers at the rally/picnic included DJ Ang. G, DJ 12PM, Las BomPleneras, YEPP, House of Ninja, Slop Sink, Miss Mika, Sick Sad World, Mister Junior and Bonsai Bermudez, who gave participants salsa lessons. Jackie Boyd and La Tony served as MCs. Also on hand were representatives of various LGBT community organizations to provide info and recruit volunteers at tables specifically set up to encourage picnic and rally goers to connect with community resources. 
The rally and picnic included a children's area complete with a magician and the breaking of a piñata. Food was provided by Fresh 82 Cafe and donations were accepted to cover the costs. The rally and picnic concluded at 7 p.m., with organizers scrambling to clean up just as storms set in. No incidents were reported during the march or rally and picnic.
*With its roots in the first Pride March in June 1969, the first Dyke March took place in 1992 in New York and in Chicago in 1996. 
**lesbian, gay, bisexual, transgender and queer
Related:
Crime Stats By District
Columnists