Lights and decorations for the season get oohs and aahs in the Wicker Park Fountain Court for the seventh year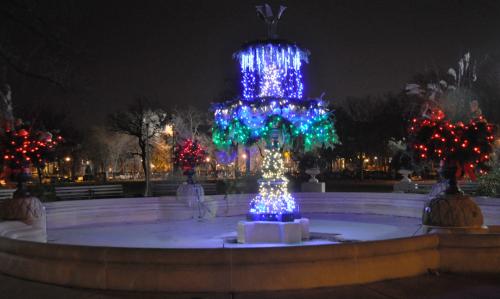 Wicker Park Fountain twinkles and sparkles with lights as the two rings of sumptuously decorated urns stand sentinel for a seventh holiday season in Wicker Park, 1425 N. Damen.
More than sixty people from across the Chicago area worked on Sun., Nov. 21, for all or part of the ten hours it took to decorate the historic fountain, twelve urns and the Field House doorways. The result is that the Park's Fountain Court area looks like a crown jewel on the background of evening blackness.  Its beauty holds strong during daylight without the lights as well.
The urns are filled with crab apple tree branches, greens, dried grasses and flowers from the 10,000 sq. feet of Community Gardens in the Park in addition to the branches of twenty purchased evergreen trees.  Add to that thirty bunches of red dogwood branches, eucalyptus branches, pine cones, ribbons, bows, metallic ornamental accents and tiny red lights and it is understandable how the overall effect is so festive and took so long for the workers to complete.
The fountain bowls have 150 feet of purchased garland encircling both levels with lights and icicles entwined. Lights are wrapped around the fountains base and other decorations adorn the garlands and other fountain parts.
The Wicker Park Garden Club, which is the event's designer, producer and promoter, donated $1,000 while it members and volunteers donated hundreds of more dollars in food, ornaments and other decorations. The Care of Trees donated the thousands of LED energy efficient 'green' lights and the Chicago Park District provided staff person Mike Zarcone's time for opening the Field house for the event and will provide the electricity for the display.
Many residents and other Park visitors in the Park during the day, the sounds of holiday music, the lovely tasty food donated by volunteers and the comradery produced a wonderful warm glow of community as the 2010 holiday season begins.
To see a photo enlarged, click on the photo.
Related:
Crime Stats By District
Columnists