The Michael Malis Trio performs at the Polish Triangle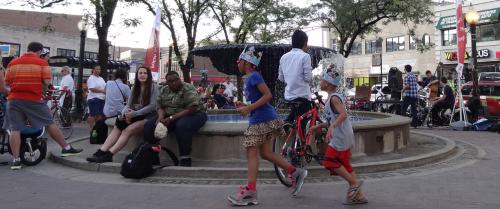 Smooth jazz drifted through the Polish Triangle this past Tuesday as the Michael Malis Trio and trumpeter Chris Lawrence performed.
The Jazz ensemble was participating in a local event called Tuesdays at the Triangle which is organized by the Polish Triangle Coalition.
As the Michael Malis Trio and Chris Lawrence played, the triangle grew crowded. The compositions, created by the pianist Malis, were reminiscent of traditional jazz but had a modern touch.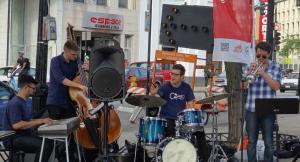 This event is just the first of many performances the Michael Malis Trio are doing to promote their new album "lifted from the no of nothing".
Unfortunately, they have finished their tour dates in Chicago but are on their way to various other venues. If you are ever in Detroit, MI,  make sure to see if the Michael Malis Trio is playing and plan to stop by.
Of course, Cevapcici, with their traditional Croatian sausages and Balkan burgers, and Sweet Cakes, with their sweet delights for those with a sweet tooth, came for this week's Polish Triangle event.
Tuesdays at the Triangle, in its third year, is produced by the Polish Triangle Coalition and during the 2015 season is supported in part by: Wicker Park Bucktown Chamber SSA#33, CDOT's Make Way for People, 1st Ward Alderman "Proco" Joe Moreno, 2nd Ward Alderman Brian Hopkins, Wicker Park Bucktown Chamber of Commerce, West Town Chamber of Commerce, Friends of the Park, Fletcher Jones Mercedes-Benz, Lipe Properties, LLC, Podhalanka Restaurant, McGrath Lexus, Our Urban Times, Near North Montessori School, House of Two Urns B&B, Holy Trinity High School, East Village Association, Pulaski Park Neighborhood Association, Wicker Park Committee, 826chi, Adventure Stage and ChiME.
Related:
Crime Stats By District
Columnists