Talented children take over the Triangle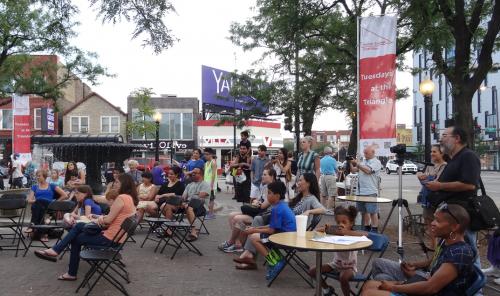 Spoken and sung, words seemed to mesmerize a relatively large audience at Tuesdays at the Triangle on July 28. The performers, from 826Chi and Cielito Lindo Family Folk Band, ranged in age from 7 to 13.
Gathering their courage, children, one by one, read their stories to expectant audiences. The stories were a product of an 826Chi writing workshop in which the children are participating.
Each story was unique, ranging from mystery to the heroics of saving the world. If any of the children were nervous, they hid it well, as each story and speaker was as eloquent and creative as the next. They used this opportunity as a practice reading, to help the children prepare for their reading at the end of the workshop.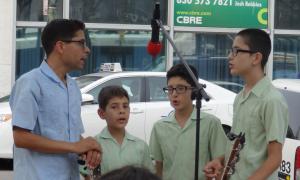 Following the young authors of 826Chi was the Family Folk Band, Cielito Lindo. The group is a made up of four young men and their father who perform in traditional jarrocho style. Singing the classics like "De Colores" but also including a charming song of their own invention about loving tortillas.
The group was charming beyond belief, each song making the Polish Triangle seem more Latino. The warmth of the tropics also seemed to follow them as well, but luckily Sweet Cakes was there with tasty treats and ice cold lemonade and iced tea. 
Tuesdays at the Triangle, in its third year, is produced by the Polish Triangle Coalition and during the 2015 season is supported in part by: Wicker Park Bucktown Chamber SSA#33, CDOT's Make Way for People, 1st Ward Alderman "Proco" Joe Moreno, 2nd Ward Alderman Brian Hopkins, Wicker Park Bucktown Chamber of Commerce, West Town Chamber of Commerce, Friends of the Park, Fletcher Jones Mercedes-Benz, Lipe Properties, LLC, Podhalanka Restaurant, McGrath Lexus, Our Urban Times, Near North Montessori School, House of Two Urns B&B, Holy Trinity High School, East Village Association, Pulaski Park Neighborhood Association, Wicker Park Committee, 826chi, Adventure Stage and ChiME.
Related:
Crime Stats By District
Columnists