Temporary Neon City created in Wicker Park's Polish Triangle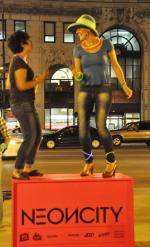 Lights, bubbles, music, art and performance rocked on in the Wicker Park's Polish Triangle (Ashland, Milwaukee and Division) Friday night, Sept. 14, from 5 to 10 p.m. Neon City was a temporary scene and event "to activate an under-utilized space." It is scheduled to be in place through Sunday.
Gensler, a global architecture, design, planning and consulting firm with offices in Chicago, was inspired by a competition the Metropolitan Planning Council sponsored earlier this year. "We missed the contest, but it got us thinking and made us want to do something to bring an under utilized space to life," said Kim Lindstrom of Gensler. "We knew about the area and the Polish Triangle so we talked with the Wicker Park Chamber and the SSA."
The result was four hours of activity and items that will be in place through Sunday or not, according to Jessica Wobbekind, SSA#33 Project Manager.  Some pieces from the space were already on their way to other locations by 9 p.m.
The primary funder for the event was WPB SSA#33 while other sponsors included Red Moon Theater, The Bedford, a graffiti artist and others.
Related:
Crime Stats By District
Columnists