Tsukasa Taiko Drummers drums up crowd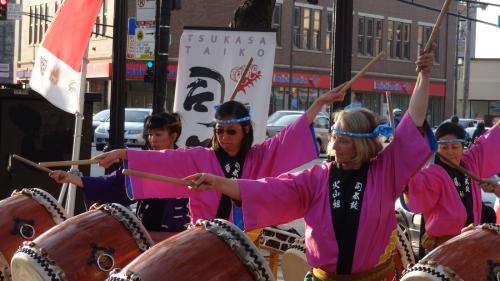 The heart pounding drum sounds drew the interest of bicyclists, parents and children. Even a fire truck slowed down to check out what was going on as the Tsukasa Taiko Drummers performed during this last Tuesdays at the Triangle.
Their performance captivated the audience as they entertained them with a well executed combination of drumming and dancing. 
Even though it was a chilly summer's day people stayed for the whole performance as they grabbed something for their sweet tooth at Sweet Cakes food stand or a hot steaming sausage at  Cevapcici's food stand. 
The Tsukasa Taiko Drummers, a program of Asian aRts Midwest, next performance is a at Millennium Park on July 18th at 1 p.m. which will certainly will be fun, if this past Tuesday is any indication.
The Michael Mellis Trio featuring Chris Lawrence will be performing at next weeks Tuesdays at the Triangle.
In its third year, Tuesdays at the Triangle, is produced by the Polish Triangle Coalition and during the 2015 season is supported in part by: Wicker Park Bucktown Chamber SSA#33, CDOT's Make Way for People, 1st Ward Alderman "Proco" Joe Moreno, 2nd Ward Alderman Brian Hopkins, Wicker Park Bucktown Chamber of Commerce, West Town Chamber of Commerce, Friends of the Park, Fletcher Jones Mercedes-Benz, Lipe Properties, LLC, Podhalanka Restaurant, McGrath Lexus, Our Urban Times, Near North Montessori School, House of Two Urns B&B, Holy Trinity High School, East Village Association, Pulaski Park Neighborhood Association, Wicker Park Committee, 826chi, Adventure Stage and ChiME.
Related:
Crime Stats By District
Columnists