Wicker Park Bucktown SSA #33 seeks feedback on Open Streets event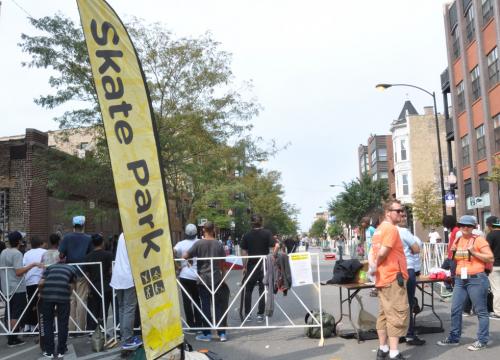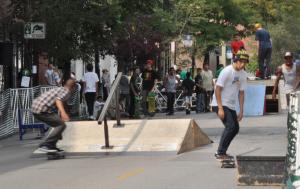 Feedback on the Open Streets event that closed Milwaukee Ave. from Division to Western on Sun., Sept. 16 between 5 a.m. and 4 p.m. is being requested by Wicker Park Bucktown (WPB) SSA#33, which funded the event with $70,000.
Can you fill in the gaps with more facts?  You are invited to express your opinion about the event based on what you saw or think about it as well as to fill in information gaps. Add your comments below or on our Facebook page.
At the SSA #33 Commission meeting on Wed., Sept. 19, all Open Streets reports and comments from Program Manager Jessica Wobbekind; Chair David Ginople; Transportation Committee Co-Chairs Joe Hall and Brent Norsman; and  Recording Secretary Sam Marts were positive and favorable. It was stated that there were only two negative calls to the office and on the street, people talked to staff made only positive comments.
During and after the event, those in attendance expressed different opinions as did people who were impeded by attempts to get in or out of the area on public trans as well as by car.
Issues and questions that have been put forth include:
Attendance:
Ginople had reported to this reporter on Tuesday, that they estimated 20,000 people had attended. That was the number originally put forth by the producers of the event, Active Transportation Alliance (ATA), when they were promoting it and the same number used in their reports for the Sept. 9, State Street Open Streets event.
The measurement of that number is, according to Ginople, to be calculated by photos taken by ATA.
Budget:
What did the entire event cost? In a conversation on Thursday with Julia Kim, ATA's Open Streets Director, she said that all the numbers were not in. My question to her was "what was the budget" to which she would only say, "These events run between $100,000 to $150,000."
When asked if that included the fees to LAZ for lost parking revenue, she indicated that that was handled by the City and was not part of the event cost.
Funding from the SSA #33 was $50,000 via the Transportation Committee and another $20,000 from the Executive Committee for the Skateboard area.
Purpose:
"Voice for better biking, walking and transit" is the ATA slogan.  Open Streets is part of the world-wide ciclovia movement to open the streets to neighbors for biking, walking, dancing, playing and more. 
"How is this suppose to improve the quality of life in our neighborhoods?"
Impact on overall area:
"Surface public transportation was delayed considerably as were drivers. This effected a lot more people then just live in our area."
 Value:
From the business perspective:
Some businesses were closed.
Some businesses didn't know anything about the event but were pleased with the traffic and would have taken other actions such as sales had they known.
From the residential perspective:
Some were angered about trying to traverse the area
Some thought it was nice to be able to walk on the streets without it being a "beer event."
"Taking $70,000 of local taxpayer money (SSA district) for a five hour event where even if there were 20,000 people, a large percentage were little children, is not a good use of our money. Add to that the money paid, out of taxpayer funds, to pay LAZ for parking. It is an outrageous expenditure. There is no significant value to the greater community."
 Event:
The organization of the event was put into question by several people. Part of those critiques were relative to the layout and safety of activities.
Comments included:
"There was an enormous waste of space between events. Half the length of the event could be eliminated."
"It was badly laid out. Kids events were going on and bicyclists had to weave in and out. People were running into each other."
"They had sack races on the hard surfaced street. Two kids feel and were hurt."
"Two ambulances came on site because of injuries."
(This is a fact that we are looking to substantiate. Were children hurt? Was anyone transported by ambulance from the site? According to the Chicago Police Department there were two minor incidents in the 1400 block of Milwaukee but they did not involve children.)
"The large toys for children were coated with street filth…chemicals, oils, street partying residue, etc. Then children were putting them in their mouths."
Related:
Crime Stats By District
Columnists