1099 String Quartet closes out its Wicker Park season this Sunday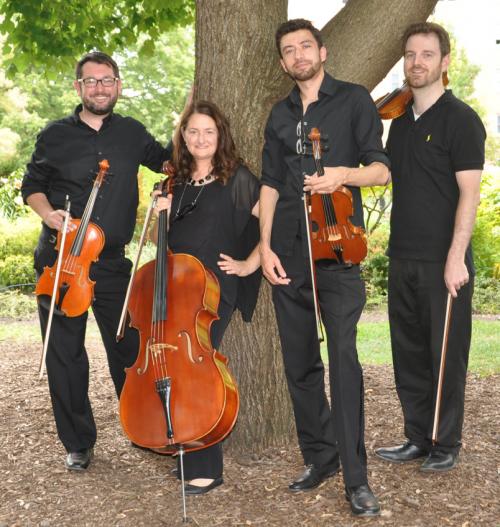 Ryan Loeckel's 1099 String Quartet will end their 2017 season in Wicker Park, 1425 N. Damen Ave., Sunday, Aug. 13, with Mozart in the Jungle. 
Tucked in Schiller Grove toward the corner of Damen and Schiller, listeners can dine or just listen between 11 a.m. and 12:30 p.m.as this popular group adds two instruments for this concert. 
The Quartet + Oboist + Synthesizer will feature works by Mozart, Teleman, and Glass including: 
Mozart's Oboe Quartet in F major, K. 370
Phillip Glass' "Bent" Suite for String Quartet with Ambient Synthesizer
Will Justice as Hippie Priest's "Beach on the Event Horizon" (original electro-ambient)  
Other works to be performed are:
Mozart's Overture from The Magic Flute, K. 620
Mozart's Mirror Duet for two violins - Allegro
Telemann's Canonic Sonata No. 1 for two violins - Vivace
Mozart's String Quartet No. 1, K. 80 – Allegro 
Performing will be:
Emily Nash & Matthew Cataldi – violins
Ryan Loeckel, viola
Dorothy Deen, cello
Eric Van Buskirk, oboe
Will Justice (Hippie Priest), synthesizer 
The event is presented by the Wicker Park Advisory Council, Wicker Park Garden Club and  SSA #33, in partnership with the Chicago Park District.
Related:
Crime Stats By District
Columnists