Become inspired and empowered at Heaven Gallery Women's Day event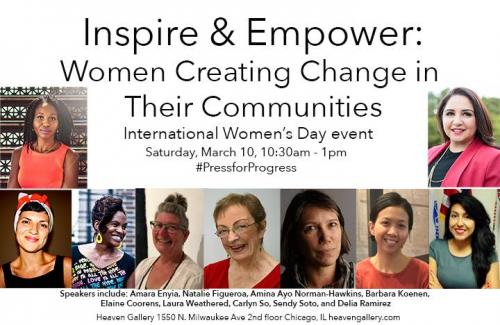 In honor of International Women's Day, Alma Wieser, Heaven Gallery, 1550 N Milwaukee Ave #2, is inviting all to participate in Inspire & Empower, Mar. 10, from 10:30 a.m. to 1 p.m. Admission is free.
"We have some really amazing women. We have women running for office. We have a woman who is running for mayor. We have a woman, Delia Ramirez, who is running for the 4th District Illinois State Rep.," says gallery founder and owner Wieser.
Inspire & Empower will showcase a few women who have impacted Chicago. They will offer insight into what they do and how they are impacting neighborhoods across the city.
The guest speakers include: public policy expert Dr. Amara Enyia; founder and director of Creative Chicago Reuse Exchange Barbra Koenen; activist and community organizer Natalie Figueroa; director of Near Northwest Arts Council Laura Weathered; activist and artist Amina Norman-Hawkins; community developer Carlyn So; community activist Sendy Soto; Our Urban Time's Editor/Publisher Elaine Coorens; and 4th district Illinois House or Representative candidate Delia Ramirez.
"The event is about inspiring other women to create their own projects in their own communities, as well as hear about projects that are already being put forth," says Wieser.
Wieser has been with Heaven Gallery since 2008, and has been influential in keeping Wicker Park's art scene alive, showcasing art exhibits, talks, and musical performances.
Related:
Crime Stats By District
Columnists