Chicago Public Library honors two former presidents: Lincoln and Washington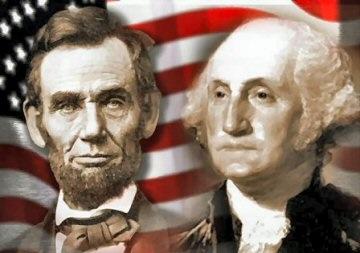 In honor of the birthdays of former President Abraham Lincoln and George Washington, Chicago Public Libraries will be closed on Monday February 13 and 20.
Abraham Lincoln was born on Feb. 12, 1809, in a log cabin in rural Kentucky. He was encouraged to read by his step-mother, Sarah Bus Johnston. His formal education, which consisted of approximately 18 months, was not easy. With reading material being in short supply, Lincoln often had to walk miles to borrow a book*.
Lincoln's early life was is in Kentucky, Indiana and finally Illinois, where he lived in New Salem. Following the Black Hawk War, Lincoln went into politics and, in 1834, was elected to the Illinois state legislature. Deciding to go into the practice of law, he taught himself.
Admitted to the bar in 1837, he moved to Springfield, IL, and joined the John T. Stuart law firm.
A passionate supporter of ending slavery, Lincoln became President of the United States of America in 1861. He was assassinated on April 14, 1865, less then a month before the ending or the Civil War on May 9, 1865.
A quote: "Nearly all men can stand adversity, but if you want to test a man's character, give him power."
George Washington was born on a plantation in Westmoreland County, VA, on Fe. 22, 1732. At 17 he was appointed a county surveyor and by 21 he was a Major in service of British, during the French and Indian War (1754 - 1763). By 22 Washington had an international reputation for his accomplishments and determination.
Married to Martha Dandridge Custis in 1759, he spent the next sixteen years as a gentleman farmer in Mount Vernon. A slave owner from the age of 11, Washington's Mount Vernon list of enslaved men, women and children numbered 316. Washington provided in his will that all of his slaves would be freed but not those who Martha brought to the marriage. Washington was the only slaveholder among the founding fathers to free his slaves**.
Washington became the first President of the United States on Feb. 4, 1780, and served until 1797. He died on Dec. 14, 1799, in his Mount Vernon home.
One of his quotes: "If the freedom of speech is taken away then dumb and silent we may be led, like sheep to the slaughter." 
Related:
Crime Stats By District
Columnists