Connect to your community spirit: Mulch Day in Wicker Park and Wicker Park Choral Singers Fund Raiser
Morning and evening events on Saturday, April 6, will give you opportunities to connect with your community spirit. In the morning is the Big Mulch Day and Dog Park Cleanup in Wicker Park starting at l9 a.m. and going until noon. 
Mulchers must RSVP to make sure there will be equipment waiting for you. Be sure to wear hard toe shoes and clothes you are ok about getting dirty!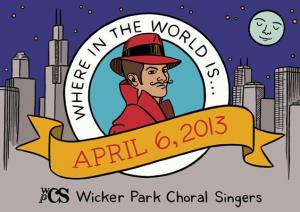 Then in the evening, the Wicker Park Choral Singers are offering a night of intrigue, crime-busting and choral music in the Jackson Junge Gallery, 1389 N. Milwaukee Ave. from 7 to 10 p.m. 
Party goers will be asked to help the choir stop evil villain, Thomas Markasino, from ruining the art of choral music! Following a series of clues, you will sleuth your way around the globe and throughout history to restore the balance of the choral music space-time continuum. This video will give you some clues! 
Tickets for the fund raiser may be purchased via the web. All proceeds will benefit the all volunteer Wicker Park Choral Singers.
Related:
Crime Stats By District
Columnists