Dynamic start to summer activities 2018 in Wicker Park begins Sunday
The Chicago Blackhawks inflatable rink, Mr. Dave Music for KIDS, Park and Garden Tour capped off with the Wicker Park Choral Singers while the Wicker Park Farmers Market has its season debut with early morning yoga. All of these admission free events make Wicker Park, 1425 N. Damen, the place to be Sunday from 8 a.m. to 2 p.m.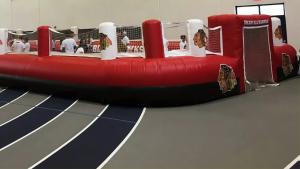 The Chicago Blackhawks Inflatable Rink is a safe, structured environment for children to play street hockey. Members of the Chicago Blackhawks Fan Development Team and WickerICE Education Team will greet the children and instruct them on how to use the portable rink. 
To be located on the basketball court (if raining, the Field House gym) between 9 .m. and noon, the event is presented by Wicker Park Advisory Council & WickerICE in partnership with the Chicago Park District. 
From 10 to 10:45 a.m., a tour of historic Wicker Park's 10,000 sq. ft. of ornamental gardens designed, funded and maintained by the Wicker Park Garden Club will be available. Attendees will have an opportunity to learn about designing and maintaining sustainable gardens for their home. Participants should meet at the west side of the Field House at the music tent. Register for the tour. 
It will be all about music between 10 and 11 a.m. in the Playground (if raining, the Field House gym) where Mr. Dave Music, will get the littlest kids singing, clapping, jumping and dancing. Hailed by parents as "pure magic" and an "absolute must do activity for the entire family," this is a show you do not want to miss! 
The exquisite voices that make up the Wicker Park Choral Singers will be "on stage" from noon to 1 p.m. on the west side of the Field House as part of the Farmers Market. The acapella group, based in Wicker Park, performs throughout the City. They have been singing in the Park since they began in 2008. 
Their program is to be:
My Spirit Sang All Day – Gerald Finzi
Abide With Me – arranged by Moses Hogan
Sing Joyfully Unto God – William Byrd
Hear My Prayer,O Lord – Henry Purcell
O Lord, Jesus Christ – Alfred Schnittke
Dem dunkeln Schoss der heilgen Erde – Johannes Brahms
Bogoroditse Devo – Sergei Rachmaninoff
Beati Quorum Via – Charles Villiers Stanford
The Turtle Dove – Ralph Vaughan Williams
Daemon Irrepit Callidus –  György Orbán
Little Potato – Malcom Dalgish, arranged by Carol Barnnet 
Sleep – Eric Whitacre
Hark, I Hear the Harps Eternal – arranged by Alice Parker
Shenandoah – arranged by James Erb 
Both musical offerings are sponsored by the Wicker Park Advisory Council & Garden Club in partnership with the Chicago Park District. 
The Farmers Market closes the activities at 2 p.m.
Related:
Crime Stats By District
Columnists