"Ev'rybody dance now!" or just enjoy the action at Chicago SummerDance Celebration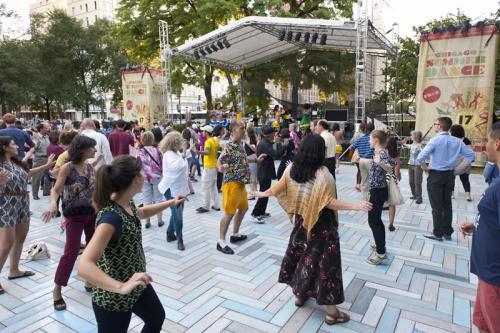 On August 26…"Ev'rybody dance now!"… in Chicago's Millennium Park, free, from noon until 9:30 p.m. It will be the largest annual outdoor live music and dancing series in the country for people of all ages to engage in or just observe. It is Chicago SummerDance Celebration. 
Audience Architects, in collaboration with Chicago's Department of Cultural Affairs and Special Events (DCASE), is presenting Dance Village, a summer celebration highlighting various forms of dance through neighborhood competitions, with finale performances at a day-long dance festival in Millennium Park 
It begins with M.A.D.D Rhythms tap dance performance at noon and moves through Bollywood, contemporary, classical ballet, West African, jazz and more until the hula takes stage at 5:45 p.m. 
The Most Versatile Dance Contest will be at Cloud Gate Stage ("the Bean") from 4 to 6 p.m. 
An expo of dance related groups will include:
Aloha Center Chicago
Audience Architects
Arts and Business Council/Chicago Cultural Alliance
Ballet 5:8
Ballet Chicago
BeMoved Dance
Esoteric Dance Project
Harvest Contemporary Dance Festival
Mandala Arts
May I Have this Dance
Meher Dance Company
NAJWA Dance Corps
Old Town School of Folk Music
Red Clay Dance Company
The Watering Canjavascript:mctmp(0);
Related:
Crime Stats By District
Columnists