Exhibition Opening: Celebrate women photographers' 12 neighborhoods in 12 months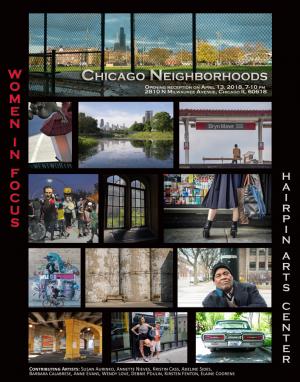 Over 12 months in 12 neighborhoods, thousands of images were captured by Women In Focus Chicago (WIF) photographers. Seventy-four of those impressions will be celebrated at the "Neighborhood Project" exhibition, opening Fri., Apr. 13 in the Hairpin Arts Center Gallery, 2810 N. Milwaukee Ave., from 7 to 10 p.m. Everyone is welcome. 
Representing the people, sights and culture of Bronzeville, Chinatown, Downtown, Historic Pullman, Hyde Park, Lincoln Park and the Lakefront, Logan Square, Pilsen, Rogers Park, Uptown, the West Loop, and Wicker Park, the images in the exhibition are like small windows, enticing viewers to more neighborhood exploration of their own. 
Guided by neighborhood, faux "Chicago street signs," visitors can meander from  neighborhood to neighborhood viewing pieces by Adeline Sides, Deborah Poulin, Annette Nieves, Wendy Love, Kirsten Fenton, Anne Evans, Elaine Coorens. Kristin Cass, Barbara Calabrese and Susan Aurinko.
At the opening, a special playlist will enliven the gala, featuring songs of Chicago's neighborhoods from soul, jazz, gospel, and blues, to folk, rock, roots, hip hop, and house. The list was created by Dave Hoekstra, former Sun-Times music critic and host of WGN Radio's "Nocturnal Journal." 
The exhibition was curated by two well-known experts on both photography and Chicago neighborhoods, Richard Cahan and Charles Osgood. This show in Hairpin marks the debut of the full project, following a preview exhibit at Café SelMarie in Lincoln Square last summer and the inclusion of select works in Jackson Junge Gallery's "In the 'Hood" show in Wicker Park over the 2017 holiday season.
Raffle tickets will have winners walking out of the show with a photo from one of the 10 artists or the signed and matted copy of the exhibition poster, signed by all 10 artists. Proceeds from the raffle will benefit the Hairpin Arts Center.
The show will continue at Hairpin through Sunday, Apr. 29, Gallery Hours and two more special events are:
Sat. & Sun. Apr. 14 & 15; Apr. 21 & 22 1 to 4 p,m, -- Gallery Hours
Sun., Apr. 22, 3 p.m. -- Artists Talk about what went on behind the cameras in the project and how perceptions changed
Fri., Apr. 27, 7 to 9 p.m. Closing Reception
Related:
Crime Stats By District
Columnists