K-9s for Cops launches with partnership of CPMF and PAWS
K-9s for Cops, public art campaign to memorialize Chicago Police Department's (CPD) fallen officers and support the families of police officers killed or catastrophically injured in the line of duty, is being produced by the Chicago Police Memorial Foundation (CPMF) in partnership with PAWS. German Shephard statues designed and painted by artists will be standing watch along the Magnificent Mile from July 23 until Labor Day. 
With hopes to have 200 to 300 sponsored dogs, Richard "Rick" Simon, member of the Foundation's Advisory Board and Vice Chairman of the Board of The Magnificent Mile Association, is using the success of Horses of Honor, which raised over $800,000 in two years, as his inspiration.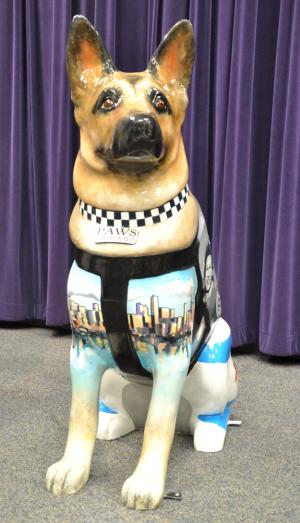 Locally manufactured, approximately 54 inches tall, the statues are made of durable and weather-proof fiberglass and waiting to be sponsored. Local artists will be available to work with sponsors, decorating each statue with a unique design.
A Tuesday morning press conference at CPD Headquarters, launched the campaign. Sponsorship for each dog is $2,000, details and applications are on the K-9s for Cops website. 
"We are honored to partner with the Chicago Police Memorial Foundation, for this project," said PAWS Chicago Founder & Chair Paula Fasseas.
"We partner with police everyday. We have adoption centers, subsidized spay/neuter and dental care for people in high risk communities to help residents care and train their pets. Police are always bringing us animals they find or have been given. They know that we will heal them and get them ready for adoption." 
Described by Simon as having a gun on his right hip and a paint brush on his left, Officer Peter Bucks, who painted the first dog, said "I worked on the Horses of Honor and I am truly blessed to serve the City of Chicago and to be one of these artists." 
According to Simon, the Foundation is in the process of developing a contest for the best in show of the statues. "We want to 'up the game' to encourage artists to do their very best." 
Meet the Stars
Many officers are depicted on the first of the painted canines. The Chicago flag along with a depiction of the downtown area are also incorporated in the statue's design by Bucks. 
Representing the approximate 70 dogs in Chicago's K-9 Corp is Simon, the German Shepard.
Given a ball for good behavior, Simon was eager to accept pats and scratches as he chomped rigorously on his toy.
Officer Patrick McGrath, Simon's partner, pointed out that the black and white checkered collar on the statue and worn by Simon is a badge of service. Simon has the special collar because he has had five "finds," quite an accomplishment as he is only in his second year of service, said McGrath.
*A 'find" is locating what or who for the dog is searching.
Related:
Crime Stats By District
Columnists