Last call for 2019: Tuesdays at the Triangle
Tuesdays at the Triangle wraps up the seventh summer of entertainment, food, vendors and fun on July 9 between 4 and 8 p.m. where four neighborhoods (Wicker Park, East Village, Noble Square and Pulaski Park) meet at Milwaukee, Division and Ashland, the Chicago Transit Authorities (CTA) Division Street Blue Line stop. 
Produced by the Polish Triangle Coalition, Mr. Dave's Music brings a new dimension to Tuesdays at the Triangle this year with songs that have  people of all ages movin' to the beat between 4 and 6 p.m. 
Adding to the sparkle of the evening will be Adventure Stage students who will be giving out words of love and encouragement to commuters until 6. 
Then, at 6 p.m. Kielbasa and Kimchi will bring more adult-based music to the Triangle until 8 p.m. 
An assortment of vendors offer up a list of things from mango on a stick, tamales, crepes, coffee, vintage items, fresh flowers to information booths. People have found money owed them from the State and touched base with the 2nd Ward Alderman Brian Hopkins' office. 
Sponsors that made this year possible were: 2nd ward Ald. Brian Hopkins, Activate! Chicago, Adventure Stage Chicago,  Belmont Bank and Trust, Chicago Department of Transportation Make Way for People, Clean Slate,  Near North Montessori, Our Urban Times, Pandora lobo estepario Press, Podhalanka Polish Restaurant, Polish and Slavic Federal Credit Union, STAS*Development, Wicker Park Bucktown Special Service Area #33, West Town Chamber of Commerce, Wintrust Bank – Logan Square, Zwolinski Tribute Circle. 
Vendors have included: Tamales Express, St. Stan's School, Aeslin Pup Hub, Intelligentsia Coffee, State of Illlinois ICASH, Youth and Yarrow (flowers), Crepe Paname (crêpes) and Ace High Vintage. 
This year Alice Howe was on board to manage the entire six-week series, though many Polish Triangle Coalition members were on hand to put up and take down tents, chairs, signs, tables and all the other things that make a successful programming series. 
It is amazing that such a small piece of real estate in the heart of West Town has made such an impact, connecting neighbors to neighbors, businesses and fun family-friendly activities for seven years.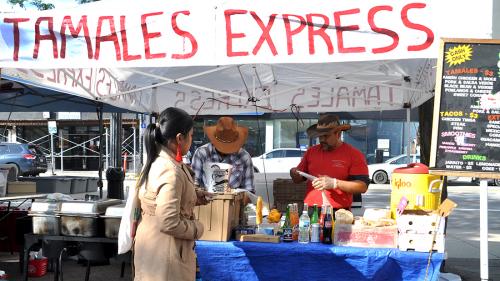 Related:
Crime Stats By District
Columnists