Meet Nicholas Sistler: a master of diminutive, deception, color and illusion
With a passion for diminutives, colors and jigsaw shapes, Nicholas Sistler teases the eye in a new exhibition, JUMBO, which opened Fri., Oct. 4, in The Dime, 1513 N. Western Ave. In Wicker Park, the show continues through Oct. 28. 
"I'm fascinated by optical illusions and how visual information can be ambiguous, first appearing one way, then morphing into something entirely different," says Sistler. 
"I've always been interested in the abstract." 
But it wasn't until 12 years after graduating from the School of the Art Institute of Chicago (SAIC) that he found his way to the magical world of the diminutive. 
It was a rough dozen years after school. He continued his performance art but struggled with his painting. "I tried one medium then another, one subject after another. Then I stopped! That was a painful year," he says, his face mirroring the unpleasant experience. 
Who is to say if it was a lifelong fascination of cubism, being up close with Colleen Moore's Fairy Castle at the Chicago Museum of Science and Industry (just renamed Kenneth C. Griffin Museum of Science and Industry), a personal breakthrough or a combination of all. 
But, one day he picked up a small piece of paperboard. The magic began. 
He liked being able to finish a piece in less time than the large paintings he made. "Besides, when you make an ugly one it is easy to hide," he says laughing. 
The "ugly ones" are definitely not at The Dime. There are ten pieces but the viewer can spend hours exploring Sistler's diminutive world. 
The challenge for the viewer is to determine whether the shapes or the spaces in between dominate. "Monkeying with people's perception is what makes it fun and magical for the viewer," he says. 
He uses shapes, their placement, spaces between and color to create the magic.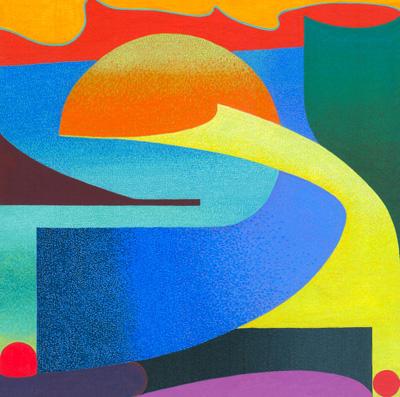 Depth is created with solid color and stippling. Sometimes the stippling is in the same color as the solid area and sometimes he uses other colors.  
Perspective is another tool in his bag of visual tricks. 
"When you learn how to draw, your brain is working in a way that your understanding of things changes dramatically. 
"An example: learning to tell time with a dial. You can see how the time passes for 15 minutes versus digitally reading a line. Thus understanding of time is different. Think of it, what would 'quarter passed the hour' mean to someone who only 'knew' time as a one line digital readout." 
"I taught myself perspective. If someone else taught me, they would probably have said, 'don't do this or that.' But I started asking the question 'what happens if I move those vanishing points around. That's kind of whacky, I like that. Let's see what else we can do with that,'" he explains. 
Presentation is the last of Sistler's considerations in producing his work. 
How much matting should encircle his image? "Enough so the frame and mat can disappear," says Sistler. 
"I started with two inches on all sides went to three on the top by four on the bottom. These are four by five inches. I like putting the image on a pedestal." The framed size is 14 inches wide by 15 tall. 
Look carefully at each piece, even the edge of the pieces' paper board is painted. 
While there are a few pieces from the show printed here, Nick's work should be experienced in person.
Get close. Focus on the image.
You will find yourself "in" his world. "Diminutive" will become your world. 
Wonderful shapes and colors demand your attention and take you on a journey. Deeper you go. 
"Oh, look," you think, "wonder what is around the other side of that curve"… as though you could go there. 
Experience that journey and you have been JUMBOed! What a trip. Don't miss it! 
Gallery owner, world renowned artist, Tony Fitzpatrick said, "When I opened this place as a gallery, I was hoping to get a show by an artist like Nicholas Sistler, he is the kind of artist that I built this place for."
Related:
Crime Stats By District
Columnists