NOSH: a food truck event without trucks in Wicker Park on Saturdays
Nosh, a weekly food truck event without the trucks (or very few), in the parking lot of A. N. Pritzker School, 2009 W. Schiller, will have its second meet-up this Saturday between 11 a.m. and 6 p.m.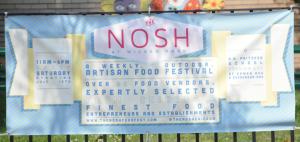 The first event on July 13 included about 16 vendors which is about half of the goal Alan Kannof has set for his new venture. Vendors were a mix of brick and mortar and users of commercial kitchens. Their longevity in the market were from July 13 to two-digit years. 
Food offerings included popcorn, hot dogs, brisket of beef, lobster rolls, wild game sausages and tacos to bloody mary mix, soup, ice cream, sauces, chocolate and water. While many items were best eaten immediately, others were to be taken home for consumption over time. 
Chocolate and carmel sauces in 11 oz jars from Grown Up Kid Stuff, for example, should be consumed over a few weeks. Their labels do state, "some people hide it in the back of the refrigerator and eat it with a spoon." This writer found that hiding it did not work but the spoon does!
Nosh was Robin Plotner-Sax's (Robin's Frozen Fantasy) first experience of offering her non-dairy ice cream to the public. Made of hemp, the product was created because of allergies she has and her love of ice cream.  
First Slice had a range of mainly desserts including pies and pastries.  First Slice is a non-profit organization that has cafes and food subscriptions. While they train people in food industry jobs, they use their profits to feed the needy and homeless through several social service organizations, such as Streetwise.
If soup is your passion but you'd rather have someone else make it…fresh, Karl Bader, Karl's Craft Soup,  has just the products for you. Using 25 recipes per season, he offers a different variety each week in 12 oz containers.  
You may have seen a cart in or near your favorite watering hole in the area late at night, since this last winter, offering pulled pork. Chances are that was Scottie Moran  with his Carnal Swine cart selling Dr. Pepper pulled pork tacos. He also teams up with his friends at The Haute and the Dog at 1252 N. Damen Ave.
Serving interesting breakast fare, the Eastman Egg Company was the only food truck on the scene. 
According to Kannof, each week can be a different collection of vendors. 
Starting in the mailroom then leaving the William Morris Agency as COO, Kannof subsequently went on to other businesses. He moved to Chicago three months ago from New York after deciding he wanted to do something in the food industry. 
Interested in bringing good, different quality food to the public, he was interested in food other than produce. And so Nosh was born with about have the vendors cooking on site and half having locally manufactured packaged offerings.
Related:
Crime Stats By District
Columnists