Six 2nd Ward Candidates to participate in first local forum January 7: Wicker Park Committee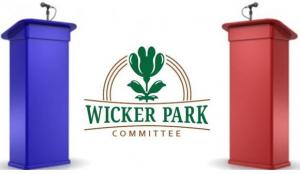 The Wednesday night, Jan. 7, aldermanic candidate forum for the 1st and 2nd Wards presented by the Wicker Park Committee (WPC) in the Wicker Park Lutheran Church, corner of Hoyne and LeMoyne, beginning at 7 p.m. sharp has a slight variation in the agenda since the last notice.
Six candidates are running in the 2nd Ward and they are: Bita Buenrostro, Brian Hopkins, Steve Niketopoulos, Alyx Pattison, Stacey Pfingsten and Cornell Wilson.
While the WPC meeting will begin at 6:30, the forum will begin promptly at 7 with the 1st Ward Candidates first on the agenda. 
To allow as much time for candidates to make statements about specific issues, there will be no candidate introductions/bios. All of these candidates have been at previous WPC meetings with an opportunity to introduce themselves. In addition, the four 1st Ward candidate profiles are listed here. The six 2nd Ward candidate profiles are listed below.
2nd Ward Race
The redistricted 2nd Ward geography has been described by Paul Green of Roosevelt University as looking like a Lewis and Clark Expedition. Many residents in this newly forged part of the City have many more colorful descriptions.
No matter how it is described, the reality is that more than 52,000 people will be "short changed" because of a political agenda aimed at one alderman. Furthermore, the person who garners the seat will be challenged with trying to serve at least three disparate parts of Chicago. 
As the classic Laurel and Hardy script might go..."Well, here's another nice kettle of fish you pickled me in!"
In addition to that political behavior, only one candidate was challenged in the 2nd Ward, a candidate tied to current 2nd Ward Alderman Bob Fioretti who is now running for Mayor.
Making the 2nd Ward race even more unique is that two candidates do not live within the boundaries of the Ward. They are Bita Buenrostro and Alyx Pattison.
Agenda
The 1st Ward section begins promptly at 7 p.m. and will end at 8 p.m. Be sure to be in the building before 6:30, if you want to participate in the membership meeting that will be brief. There is one Preservation and Development project that will be presented. The 2nd Ward Forum will begin at 8 and end at 9:30 p.m. 
For both the 1st and 2nd Ward Forums, 5, possibly 6 questions will be asked. Each candidate will be given a maximum of two minutes to respond. Whether they refer to other candidate's positions on the subject is up to each speaker.
Following those questions, each moderator will pose a question to the candidates, which they will have 1.5 minutes to use for their response. 
Alisa Hauser, DNAinfo, will moderate the 1st Ward Forum. The 2nd Ward Form will be moderated by this writer (Elaine Coorens, Our Urban Times).  
At approximately 9 p.m. there will be one question from Hauser to all candidates followed by one question from Coorens. These questions will be applicable across ward boundaries. Each candidate will have 1.5 minutes to respond to each question.
Bita Buenrostro  
Bita Buenrostro is a managing partner in a company with three restaurants. When she began that career path, she was 19, starting college on a full scholarship, having just immigrated from Iran, after 10 years in Sweden, with $30 in her pocket. 
By the time she graduated from North Park University with a degree in Political Science in 1993, she was advancing in her career in the restaurant. In 2004 she became a U.S. citizen. Her interest in public office is because she feels she can make a difference for people in the City. That commitment is because "Chicago took me in when I had nothing." 
Involved in many organizations and charitable foundations as a volunteer and supporter, she took on a ward-wide safety neighborhood watch project. That included distributing information and getting street numbers on the alley-side of all residences. She and her husband Marcus, a 19-year Chicago Police Officer, live in the 2700 block of N. Wilton Ave.
She ran in the 43rd Ward Alderman race in 2011.
Qualifications
Responsible for making sure a business runs on budget and a150 employees are properly managed translates, for Buenrostro means that she is more than qualified to run an aldermanic office.
Listening and responding is also part of her daily tasks that are necessary abilities for a public servant 
In office
Seven items are on Buenrostro's platform list. They are:
Corruption -- I will run a transparent alderman's office and publish information about use of public funds. I support the office of the IG and funding the current term of the Legislative IG and providing them the powers that they need to do their jobs. 
Crime/Safety -- Our CPD are world leaders in community involvement and tactical methods. We need to support them, call for statewide supporting legislation, and to fund more "beat cops". I feel we should have more police available, on staff. Police presence keeps our homes and families safe. 
Development and Jobs -- I want to encourage economic prosperity. With residents' input, I will support developments that enhance our neighborhoods while preserving their character to help bring good jobs to our ward. In our 2nd Ward, the future use of the Finkl Steel site is an important opportunity that I will work to carefully manage for the good of our Ward. 
Fiscal responsibility -- I am not in favor of long-term borrowing to pay short-term operating expenses. As a city we do not do a good enough job of collecting revenue that is due and owed to us such as fines and fees. In addition, we can look at excess TIF Funds. In the case of a dire budgetary emergency, excess TIF funds could be used for general revenue purposes. 
Historical preservation -- We have to balance the economic growth with the character of our neighborhood. I will work with residents and with developers to present solutions that benefit everyone. 
Reducing Gun Violence -- The Supreme Court has spoken and we will have to abide by their rulings. I do not want costly legal challenges. On the other hand, I support the actions that we can take at the state and city level, including federal background checks, measures to prevent "shill buyers," and strong penalties for a failure to report a lost or stolen firearm. 
Schools -- I will ensure that our schools have mentorship programs and that our teenage residents know the value of remaining drug-free, of finishing their educations and/or continuing, and of having a good job to earn a living. I also support improvements in City Colleges and the expansion of recently-announced tuition assistance programs. 
Transportation/Transit Issues -- 2nd Ward residents walk, bike, and use public transit. Transportation enables economic growth by helping employees and helping patrons get to where they need to go. I support Public Transportation, and will consider requesting CTA to restore the #11 Lincoln Bus route. For all issues, including larger area-wide issues, such as airports and interstates, I will carefully consider studies on effectiveness, impact, and costs before coming to any decisions.  
What is the most important item on that list that you would do first?
Safety, protecting the neighborhood along with character of neighborhood 
Brian Hopkins
Brian Hopkins is not new to government, though it is his first shot at being an elected official. Running for public office is a dream that he has had since a teen.
He worked for the Illinois State Senate Appropriations Committee from 1990-91, graduating with a bachelor's degree in political science in 1991. For the next two years, he served as the Director of the Illinois Coalition to End Homelessness, and led the successful campaign to pass the Illinois Homeless Voting Rights Act, the first of its kind in the nation. Hopkins also directed the Midwest tour of Address Unknown a nationally known theater company of homeless actors. 
Working on the downstate campaign for Dawn Clark Netsch occupied his next two years. Hopkins then went to work for Cook County Commissioner John Daley. Beginning as a budget analyst, he became Chief of Staff for the Commissioner since, a job he gave up to run his race. 
He has served on the Streeterville Organization of Active Residents (SOAR) Board of Directors from 1999, filling numerous positions, until he began his campaign. He also co-chaired the first neighborhood music festival in SOAR's history, StreeterFest in 2012.   
He currently serves on the Lakeshore Planning Committee, a group of civic leaders advocating a plan to add more green space and parkland to Chicago's Lakefront. In addition, he has been active in transportation issues and served on the Audit Committee for the Chicagoland Bicycle Federation (now the Active Transportation Alliance). He previously served on the Board of Working Bikes; an organization that recycles used and unwanted bikes. 
Though he was an early visionary for the Bloomingdale Trail, attending meetings in HandleBar basement, 2311 West North Ave., he was living in the 500 block of N. Michigan until about a year ago when he moved to the 700 block of N. Michigan Ave. with his wife, Colleen. 
Qualifications
He says that he is a consensus builder who creatively uses "outside the box thinking." Years in state and county government dealing with financing and budgeting are important traits for an alderman.
Many community volunteer hours have him well a tuned to the need for service orientation for neighbors 
In Office
Hopkins lists three targets on his "to-do" list:
Community Involvement and development, recognizing that residents not only should have a say in development proposals, but be involved as stakeholders.
Safety encompasses various aspects of people being safe and "feeling" safe to knowing the true crime stat numbers
Addressing the issue of re-inventing the aging North Lake Shore Drive. 
Hopkins believes that the Finkl siteredevelopment and revitalization of Lake Shore Drive will "tremendously reshape the City." To implement that successfully, he believes that an open processes are need with all stakeholders.  
What would be the first thing you would address?
"I'd handle the backlog of infra structure needs." When asked how possible that was going to be with the Streets and San grid system. He said that actually some alderman are considering modifying the "new" system. If they are to responsible for services they need to have control
He would also work on a process for visioning the Finkl site and the Lake Shore Drive changes.
Steve Niketopoulos
Steve Niketopoulos moved into Chicago in 1999 from Wheaton to study cultural anthropology. He began seeing the city in different ways and how it might be improved. 
An educational radio and TV producer on stations such as WGN Radio, ClTV, WTTW, TV (CAN), he followed his belief that the quality of life could be better by connecting neighbors. He has started community pages for 12 neighborhoods. 
Niketopoulos is on the Columbus Elementary's Local School Council and has also been involved in other organizations like Center on Halsted, Jane Addams Hull House and Annie's Legacy.  Founder of Stay Safe of Illinois, he worked on Open House Chicago and worked as a precinct captain for Will Guzzardi's campaign for the Illinois State Representative in the 29th District. 
He moved into the Ukrainian Village in 2010 and married Elizabeth last June. 
Qualifications
Niketopoulos cites leading by example as a community leader who can be held accountable as an important qualification along with designing new crime prevention strategies for neighbors as he has pushed for better neighborhood services
In Office
As he has done on the west side of the Ward by establishing online community pages and other communications related events, Niketopoulos focuses on coalition building in many of the issues he looks forward to tackle as alderman: 
Encourage a strong business community
Allow neighbors to vote on public projects for the 2nd Ward
Focus support efforts to help local schools develop and grow
Work closely on rodent control and neighborhood cleanups
Focus more city funding on infrastructure repairs
Improve traffic flow, no matter what method of travel you choose
Build a resource network for community safety concerns
Coordinate ideas with local neighbors, businesses and community leaders
Create more neighborhood family events and charitable campaigns
Advocate for budget restructuring instead of adding new city taxes
Create safer side street traffic zones for neighbors and their families
Build new coalitions within City Hall, creating new partnerships 
What would be the first thing you would address?
Have a meeting with all the organizations and talk about how to build a communications strategy. 
Alyx Pattison
Alyx Pattison got her first experience in government when she joined Congresswoman Jan Schakowsky's staff following graduation from college in 1997. She began law school three years later at Northwestern University Law School and worked in the school's legal clinic. 
After law school she joined Katten Muchin Rosenman in the litigation department. She became a partner in 2011, leaving the firm in late 2013 to pursue public service. 
Throughout her career, Pattison has been involved with the causes of women, children, immigrants and the LGBT community as clients and provided  services as a volunteer. 
In her personal time, she joined the De Diego Local School Council 4 years  ago and serves on the Cook County Commission on Women's Issues, as well as on the boards of the Illinois Women's Institute for Leadership and the Chicago Bar Foundation.  
She and her two dogs moved to the Ukrainian Village area in 2003. Like Buenostra she does not reside in the current boundary of the Ward. 
Qualifications
"I have a unique perspective on the Ward because I am the only candidate who has both and public and private sector experience drafting legislation that became law. 
"With my work and volunteer projects, I build coalitions well to get things done," said Pattison. 
In Office
Her focus breaks down into:
Improving schools, keeping families in the area
Building strong relationship with police, to fight crime together
Increasing transparency and accountability down town…
Creating jobs to drive the economy with tourism and large construction projects (She believes that the 2nd ward is in a unique position to make that a reality.) 
What would be the first thing you would address?
Hiring the best staff I can for constituents and taking care of my agenda. 
Stacey Pfingsten  
The only 2nd Ward candidate to be challenged in this race, Stacey Pfingsten threw her hat into the aldermanic race last September, after serving about two years as 2nd Ward Alderman Bob Fioretti's Director of Community Outreach and Constituent Services. For 7 years prior to that, she was on staff at Preservation Chicago doing grassroots development city wide. Among other consulting work, she worked for 32nd Ward Alderman Scott Waguespack as political coordinator and fundraiser.  
Pfingsten moved to Chicago in 1996. While she has lived in other neighborhoods, she has spent a lot of work time on the west side of the Ward. She lives in the 1200 block of N. Dearborn. Single, she has spent her non-work hours working for causes too. 
In 2009 she founded the grassroots group, "No Foam Chicago" after discovering that the Chicago Public Schools system used and disposed of 250,000 lunch trays daily. "This practice was alarming from not only an environmental standpoint, but from a public health perspective," she says.  
Pfingsten has been actively involved in Chicago Alternative Policing Strategy (CAPS), Raise Your Hand, the Chicago Help Initiative and is a founding member of Chicago Votes. She has also been involved with Welles Park and the revitalization of Washington Square Park. 
She holds  bachelors degree graphic design with a minor in Business Administration and attended graduate school at The School of the Art Institute of Chicago with a focus in historic preservation.  
Qualifications
"I know this job, I have been working this Ward for two years getting to know the the people in the ward and the city departments," said Pfingsten. 
She points to her problem solving skills that she honed in all segments of the ward from individuals through businesses, community groups, not-for-profits and developers. 
Conscious about a need for budgeting, Pfingsten explained how she enjoys Identifying problems and finding creative solutions. She refers to work she has done relative to rodent  control.  And most importantly she points out that she will focus on establishing an office team to serve constituents and have a smooth running office. 
In Office
Pfingsten's website states the issues she has on her agenda as a full-time alderman and what she will do about the following 8 items:
Safety and security is primary focus
Putting people before politics
Delivering good service to the ward through availability of locations and engaging constituents on City wide as well as local issues
Put resident interests ahead of visitor interests
Community development, working with neighborhoods to develop a 5-year plan, if they do not have one in place
Look new solutions to old problems
Be an independent voice in City Council
Work toward a cleaner, greener environment 
What would be the first thing you would address?
Between the election and taking office she would do anInfrastructure survey and identify the developments coming in or looking to come into the ward. 
Cornell Wilson
Cornell Wilson began his career as an Officer in the United States Marine Corps in the summer of 2003, after receiving his degree in Business Administration. Following tours of duty around the world, he obtained his legal degree at Northwestern University Law School. While obtaining his degree, he served in the Judge Advocate General's office working on legal issues facing Marines, assisted Judges Graham C. Mullen and Karen Eady-Williams and served as a Law Clerk for the Cook County Public Defender's Office. Left his position at Ungaretti and Harris LLP, as an associate in civil litigation in June to pursue his run for the 2nd Ward Office. 
During his active duty with the Marines and since, Wilson has filled leadership roles in logistics officer for regiment, platoon commander for charlie battery marine,  joint task force…. 
He moved to Chicago in 2009 and to the 1100 block of N. Dearborn in 2014. Single, he has been involved as an active Chicago Cares volunteer since 2009. Constitutional Rights Chicago is another organization in which he is involved. Wilson is in the United States Marine Corps Reserve and is involved with a church. 
Qualifications
During his military service, Wilson developed expertise in complex logistics management, skills for multi-tasking while monitoring several civil affairs operations and counter-terrorism operations across multiple nations. 
Along with his skills as an attorney, he feels that he can meet the challenge of a diverse ward. 
In Office
Describing his goal as having a "smart ward, smart government," Wilson would be a full-time alderman targeting six issues:
Reducing gun violence
Crime
Budget Responsibility
Schools
City Services for all
Looking to the future 
What would be the first thing you would address?
Long term development planning with community  groups in each of three distinct sections (east/west/central) of the Ward.
Reminder: The election is February 24 and any runoffs will be on April 7.
Related:
Crime Stats By District
Columnists